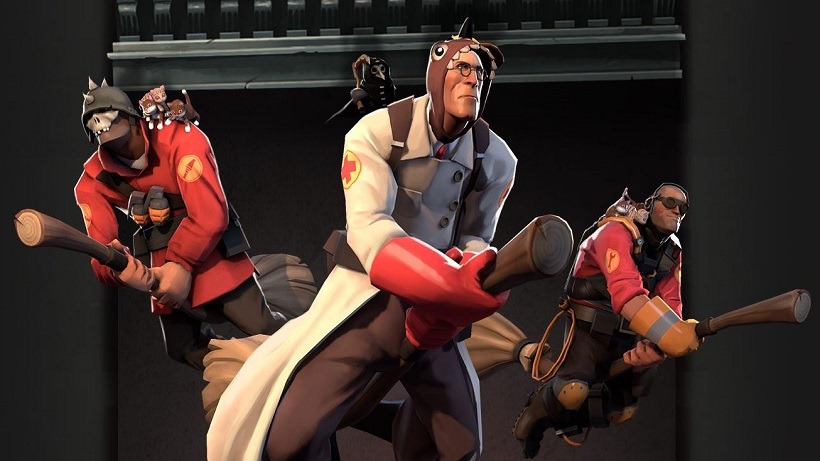 Ever since the dawn of time, Valve have been slapping themed content on to their ever popular multiplayer shooter, Counter-Strike… no wait, Left 4 Dead… no, I mean Team Fortress 2. This year is no different. With Halloween just around the corner, the class-based F2P pewpew title we all know and love is undergoing a transformation yet again, for the 7th year running as a matter of fact.
Prepare for scares… Scream Fortress 2 is out and ready to steal your soul (via VG247).
What would you do if an evil wizard showed up at your door with a plot to kill you and your friends? Call the police? Because magic doesn't exist and he's probably just a local crazy person who should be in prison? Well congratulations, Aristotle, your lack of childlike wonder just ruined Halloween. Close your browser and go destroy something else with your logic, like Christmas. The rest of you non-Aristotles can scroll down to see all the great stuff an irrational belief in the supernatural is about to get you.
Yeah… no non-Aristotles are allowed here! Now that Valve's random blurb is out of the way, what can you expect from this year's Halloween event? Quite a bit actually.
As expected, there will be a new box filled with cosmetics. The Gargoyle Case will come with 19 brand new community-created items, all of which will give ramp your character's scare factor up a little. That's not the only gargoyle doing the rounds though. There's another…
The Scream Fortress Gargoyle in your inventory will summon the dark spirit of Merasmus from the inky depths of Sergei's trunk. Merasmus will answer his cell (if he has enough bars) and assign you an eldritch Merasmission in one of TF's past Halloween modes! AWOOOOOO! Fulfilling Merasmissions and reaping souls for his gargoyle will earn you items from past Halloweens and a chance at the new Gargoyle Case! And keep an eye out for spawning Gargoyles while playing—if you find them in time, you can earn extra souls towards your Merasmission total!

Your Scream Fortress Gargoyle keeps track of your progress on active Merasmissions, levels up as you complete them, and shows off your level to other players on the scoreboard.
On top of all of this, there are four new maps, the new Mannpower Mode (fresh out of beta and with extra powerups to boot), broomsticks, and even new terrifying taunts. Heck, there's even a new comic to enjoy.
The fact that there is all of this, and every single previous Halloween mode available to play, well, there is no excuse to not be playing some Team Fortress 2 this instant. Unless you er… cough… have access to Blizzard's Overwatch (#ShotsFired).
Still, Valve never cease to amaze with their themed events. Scream Fortress will be running all the way until November the 11th. Will you be playing?
Last Updated: October 29, 2015