How do you deal with being banned from almost all major tournaments in the world? You go on about your business in the most professional way. This is exactly what Team YP has done after a public outcry from fans when the eSports team were barred from major tournaments such as ESL. The organization, who were formed when YouPorn decided to invest in eSports, have been under fire since major tournaments began banning any affiliation with products they feel do not suit the industry. This was a major hit for Team YP as they feel their presence in major tournaments is independent of their financial backer or founder.
However, as mentioned above, Team YP have gone about their business and picked up an all women League of Legends team amidst growing support for their cause.
"The newest members of Team YP are an all-female League of Legends team whose members were previously sponsored or part of various notable organizations including: gBots Club, LDLC, Team Acer and Xenodragons. They've proved their ability to deliver consistent results during LoL EU West 5on5 Ladies <3 LoL cups, placing first on multiple occasions and only improving over time. The Team YP League of Legends roster consists of:
TOP: Joanna "Myshka" Pigla, from Poland
MID: Tanja "Escape" Reither, from Austria
ADC: Laura "Aryenzz" Muñoz, from Spain
SUPPORT: Marlies "Maestra" Brunnhofer, from Austria
JUNGLE: Patrycja "Reniferka" Krumin, from Poland"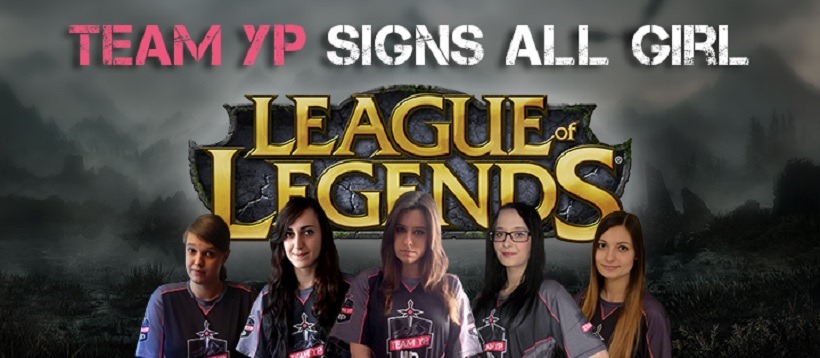 All-woman eSports teams are a rising trend in the industry. It's in fact an extremely interesting time as the divide between male and female competitive gamers slowly closes despite the obvious disparity which exists in the conventional gaming world. The need for separate tournaments are slowly fading away as more women show they can in fact break into the "boys club" that is eSports and teach them a thing or two.
"The uphill battle that women face in the industry is still a reality: being a woman in this cutthroat business means you need incredibly thick skin and strength of character on top of admirable skill and talent. Furthermore, professional female teams are still offered less time under the spotlight. Team YP believes in equal opportunity for all, which is why our organization is ecstatic to support the female LoL scene by forming its own roster, consisting of some top female talents active on the EU West & EU Nordic and East servers."
Team YP will continue to support players and teams who join their organization and the growing concern over their involvement in major comps will be damaging for the short term, but their growing support is refreshing as more and more people lobby for their return to major tournaments.
Last Updated: June 14, 2016