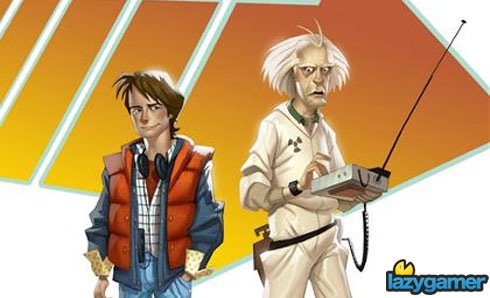 Back to the Future is one of my favourite film-franchises. Unlike most nostalgia trips from the 80's, Back to the future stands the test of time – and is still eminently watchable.
Telltale Games recently announced that they'd be making a series of point and click adventures based on the trilogy – and unlike many others' attempts at reviving venerated classics, it doesn't seem like Telltale will be pissing all over your memories.
Not only have they secured the rights to use the likenesses of Michael J. Fox's Marty McFly and Christopher Lloyd's Doc Brown – they've managed to get Lloyd to reprise his role to provide the voice as the eccentric, absent-minded  time-travelling physicist. Unfortunately Michael J. Fox's worsening Parkinson's precludes him from doing the same. They've also gotten the rights to use the DeLorean as the time machine. GREAT SCOTT!
As a final bit of awesome, Telltale have enlisted Bob Gale – who co-wrote the script for the three films with director Robert Zemeckis. Coupled with the fact that Telltale is made largely from former LucasArts folk and the inevitability that we'll see some time-travel based puzzles like those in Day of the Tentacle, this may be the greatest point and click adventure ever.
There's no precise release date, though Telltale says the adventure will begin shortly after the Back to the Future 25th Anniversary Blu-rays are released on October 26.
Source : USA Today
~
Last Updated: September 2, 2010