Right, Star Wars has sort of come and gone in Disney Infinity this year. We've had the starter kit that included the Twilight of the Republic playset, and the recent release of Rise Against the Empire, a superb Saturday morning cartoon version of the old and best Star Wars trilogy of films.
There's still one more playset on the way, for the upcoming Star Wars: The Force Awakens that Jar Jar Abrams is directing, but otherwise that's it really.
Actually it isn't, because Earth's mightiest mortals are reassembling for a brand new adventure, dubbed Marvel Battlegrounds. First mentioned earlier this year, details on that expansion have been kept tighter than Captain America's no cuss-word policy. But some new details (and figures!) have finally been revealed.
Described as an "arcade brawler" by Disney Interactive, Marvel Battlegrounds will have support for up to four players to tackle challenges. Developed by Sleeping Dog's United Front Games in conjunction with Avalanche Software, Marvel Battlegrounds will unfold over locations such as Wakanda, a SHIELD lunar base and a proper wrecked Brooklyn train yard.
Disney says that all currently available Marvel figures will have "adapted abilities and skills to complement the new style of gameplay of Marvel Battlegrounds," as they seek to stop Ultron and Loki from unleashing an army of robotic dopplegangers.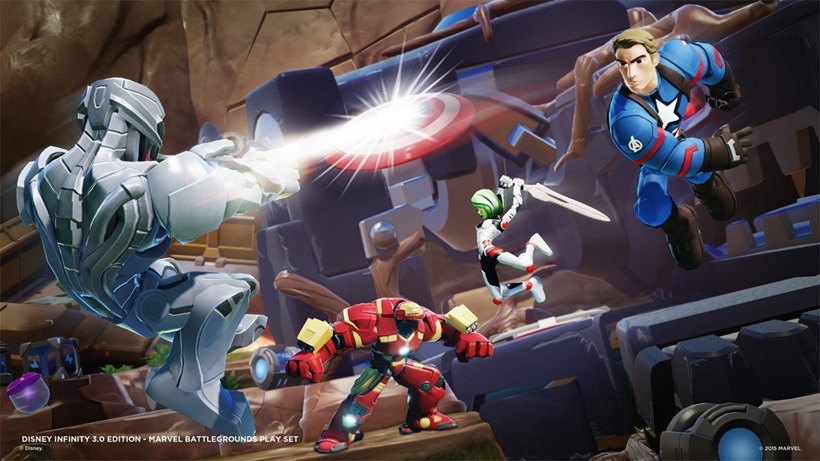 "With Disney Infinity 3.0, we've aimed to provide a wider variety of gameplay than ever before, and the Marvel Battlegrounds Play Set represents our commitment to developing something entirely new for our players," Disney Infinity boss John Blackburn said in a statement.

The four-player arena style combat gameplay is a perfect way for friends and families to come together and play in head-to-head battles with some of their favourite Marvel characters.
Marvel Battlegrounds will also see the release of new figures. The previously revealed Hulkbuster Iron Man, Ultron and a new Captain America figure based on his First Avenger appearance. Here's what it looks like:
The First Avenger Captain America will have updated abilities, and be the first of several other new figures released in the months to come. I'm crossing thumbs and my hideous toes that we'll finally get proper Doctor Strange, Captain Marvel, Winter Soldier and Black Panther figures.
So far, Disney Infinity has been the exception to the rule of outsourcing content. Whenever a game tries to do just that, the results are less than favourable (COUGH!DEUS EX BOSS FIGHTS! COUGH!), but the other studios who have contributed towards Disney Infinity have made an actual difference.
Ninja Theory was the most high-profile of partners, adding some much-needed combat overhauling to the franchise. But Rise Against The Empire was developed in part by Studio Globo. And it's honestly a fantastic use of the Star Wars license if you're planning on getting your kids hooked on the old trilogy.
I still think United Front absolutely nailed sandbox and combat mechanics in Sleeping Dogs. I'd like to see more of that spark, in Marvel Battlegrounds. I'll also deck anyone who gets in my way when I buy all the Hulkbusters and form a small army of Iron Men.
Last Updated: October 9, 2015