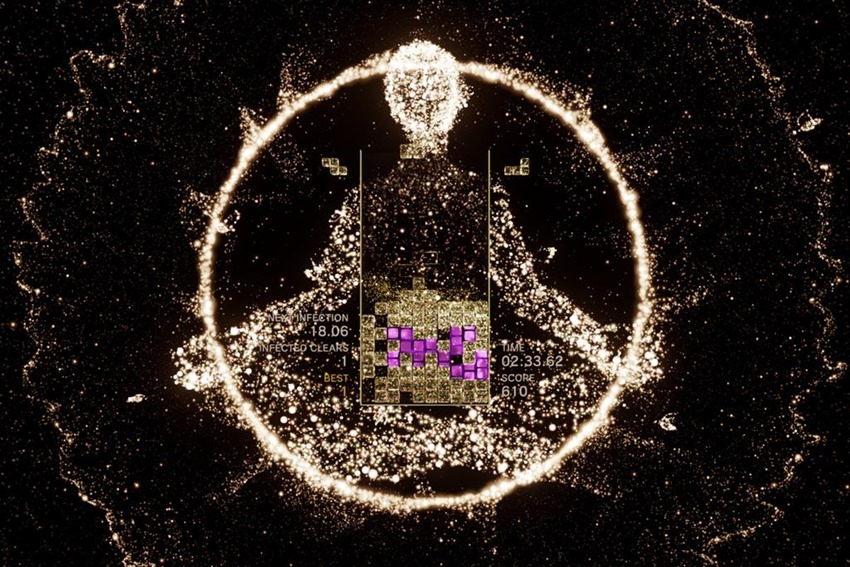 I think it's safe to say that Tetris is the perfect video game. It's easy to pick up at any age, challenging to master and you can play it on everything from a PlayStation 4 to a toaster these days. It's sublime catharsis at its most basic level, a simple puzzle that never ends and more addictive than freshly buttered bread dipped in cocaine. Coke toast.
Tetris Effect then, is Tetris perfected. We've described it as a religious experience and one that absolutely shines through the PlayStation VR hardware if you happen to own one of those headsets. Thanks to its pitch-perfect application of the Tetris formula and a banging soundtrack that is interwoven into the visual and audio DNA, Tetris Effect is simply one of the best PlayStation exclusives around.
Well, for now at least.
That period of exclusivity ends next week, as Tetsuya Mizuguchi's musical masterpiece hits the Epic Games Store as one of its latest exclusive acquisitions on July 23. You'll be able to play Tetris Effect with what the developers say will be an uncapped framerate, support for ultrawide monitors and plenty of other graphical bells and whistles, as well as support for the HTC Vive and Oculus Rift. As Odin intended.
More importantly, that exclusivity deal coming to an end on PS4 hopefully means that Tetris Effect will make its way towards the Xbox One and Nintendo Switch, the latter being possibly the perfect platform for the game. Just imagine it: Tetris Effect on the go, with an option to play the game in vertical mode on your switch while that amazing soundtrack leaks through the speakers. I think I'd be in heaven.
Anyway, if you're keen to grab Tetris Effect on PC, it'll launch with a 20% discount until August 6, and from then on will cost you $17.99/R251 for afterwards. A price I'd happily pay thrice for that gem.
Last Updated: July 17, 2019