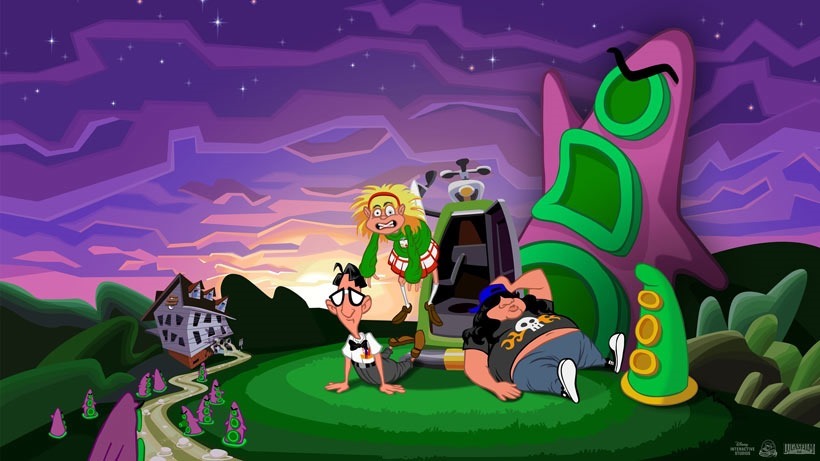 This weekend, Double Fine showed off the first screens of the long-in-development remake of one of my favourite games, pretty much ever. Back in 1993, LucasArts released the sequel to Maniac Mansion; Day of The Tentacle. I remember going in to my local game shop, and being sucked in by the box and its wonderful art. If you'll recall, PC games used to come in these giant boxes, and this one, which had a bespectacled nerd and two of his friends running away from a purple tentacle brandishing a space gun called out to me.
I hadn't played Maniac Mansion, but I had recognised the LucasArts logo having played and loved Monkey Island so it was a no brainer. I grabbed the stiffy disk version, because in 1993 I didn't have a CD-Rom yet, so went home, and installed the game from the 6 included 3.5" disks. I don't think I slept until that purple tentacles evil had been vanquished. A year or two later, once I'd finally managed to get a CD-Rom, I picked the game up again on CD, so I could re-experience the game, only this time with full, digitised voice.
And soon, I'll get to experience it again thanks to the aforementioned HD remake. It doesn't look terribly different from the original game, but is decidedly clearer, sharper visuals and sound, along with an optional, more modern UI. It's coming next year to Mac, PC, PS4 and Vita, with cross-buy via the PlayStation Network. There will also be a commentary track by the game's original creators: Tim Schafer, Dave Grossman, Larry Ahern, Peter Chan, Peter McConnell and Clint Bajakian.
Take a look.
But why remake Day of the Tentacle?
"We just knew that [Day of the Tentacle] was a game that we wanted to see again and have new people see it who hadn't seen it before," Double Fine founder Tim Schafer said in an interview with Polygon. "We had a lot of fun with [Grim Fandango Remastered] but when we first started, I thought 'No one's going to care about old games.' But they had such a passionate response to it.

"It's just really nice to revisit them and to remember those games and what was good about them and learn from them again. As you work on these games, you remember little things… you were a different person when you made those games. It's interesting to revisit that and revisit an old version of yourself too."
Last Updated: October 26, 2015