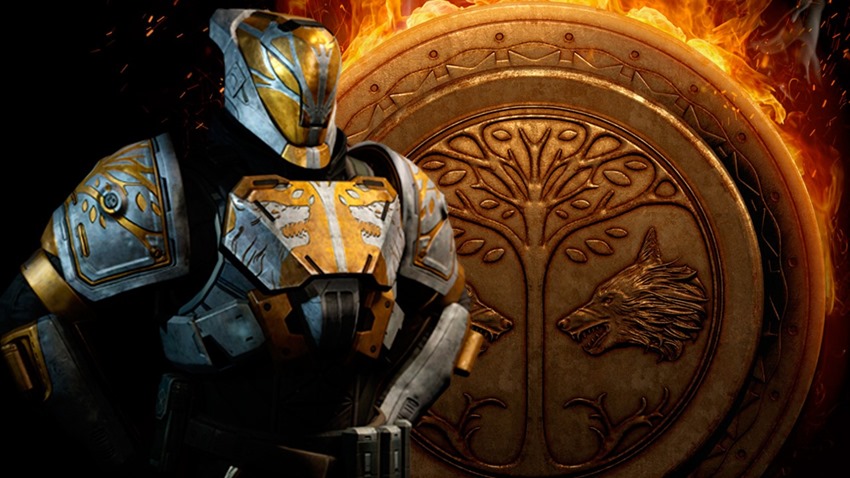 Human sacrifice! Dogs and cats living together! Mass Hysteria! Me actually getting a kick out of the Destiny 2 Crucible. I was never a massive fan of the original Destiny's multiplayer, primarily due to it being a torturous slog of broken net-code and filled to the nines with those little bastards who made ample use of LAG-switching to score constant kills.
Destiny 2's Crucible on the other hand? I've been a regular there, thanks to some magical netcode and a far more balanced field that has given everyone a shot. Right in the noggin. HAW. While I'm not yet ready to survive a single round in the MIDA Multi-Tool showcase known as Trials of the Nine, I'm keen on jumping back into another old favourite: The Iron Banner.
Bungie has announced that Lord Saladin's classic showcase of the immortals will begin on October 10 at 2AM PT/11AM CEST, with the 4v4 action focusing on Control matches. Here's the exclusive armour that Guardians will be playing for:
And here's the brief direct from Bungie:
The game is Control.

As the first Faction Rally comes to an end, the Iron Lords are hosting the next ritual. Their special event has undergone some changes. The Iron Banner is still your chance to stand and be proven in the fires of friendly competition.
What's different?
Combat will be between two teams of four players
Your fighting abilities, not your power levels, will decide the outcome
Bounties and Ranks have been replaced with an Iron Banner Engram
How can you compete?
Complete the Destiny 2 campaign – the only way to reach the Tower
Visit Lord Saladin in the Tower to begin the Iron Banner Quest
Fight in the Iron Banner playlist with Quickplay modes and matchmaking
What's in it for you?
Earn Iron Banner Tokens in every match (earn more if you win)
Daily and Season* Milestones that track your progress to glory
Claim brand new armour wrought in the forges of the Iron Lords
The original Iron Banner of Destiny the first was a bit of a slog when it came to earning rewards. Points would increase each day as the clock wound down, with losing streaks bolstered by point-multipliers to encourage Guardians to jump back in. If the Iron Banner is making that grind for tokens somewhat easier so that players can get their hands on some neat gear sooner, then yes son. YES.
I need that samurai armour for my warlock.
Last Updated: October 6, 2017