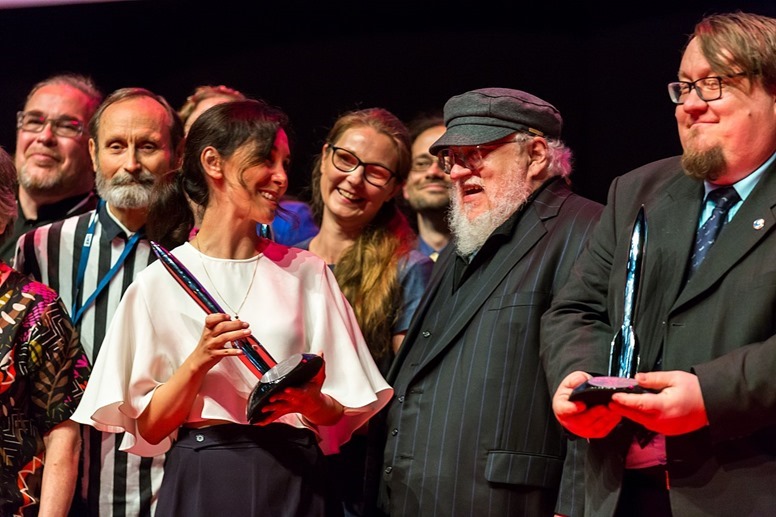 You know, video games have come a long way since Pac-Man. It's not all WAKAWAKA, you know what I'm saying, kids? Games are big and beautiful and they have stories to tell. Some of those stories are so good, they should maybe even win an award! They could grab a Game Award from Geoff Keighley's palms but that doesn't fee posh enough.
No, some video games deserve a Hugo Award, only one the most prestigious trophies that could be thrown at a work of science-fiction or fantasy. Fortunately, The Hugo Awards have agreed with that sentiment! Just… well, they aren't exactly making an institution out of it.
You've definitely heard of The Hugo Awards and if you haven't, your favourite sci-fi novel was probably nominated for it. It's a big deal in the world of literature so the announcement that for the first time they'll be honouring a game is a pretty big deal. To be eligible for the 2021 award, a work has to meet a certain requirement. For the gaming section, anything nominated must be "a game or substantial modification of a game first released to the public on a major gaming platform in the previous calendar year in the fields of science fiction, fantasy, or related subjects."
"Since early 2020, many of us have spent more time gaming than we ever expected. This award will offer fans an opportunity to celebrate the games that have been meaningful, joyful, and exceptional over this past year," said Colette Fozard, co-chair of DisCon 3, the 79th World Science Fiction Convention.
According to Kevin Standlee from the Hugo Awards Marketing Committee, the chances of video games being honoured is more than just a once-off deal. If this particular category gets more interest, members can vote to make it a permanent fixture in the Hugo Awards. And that's the key right there: Membership.
Some members are making a concerted effort to have video games more widely recognised, and thanks to the democratic nature of the Hugo Awards voting process, the rest of the organisation can also gauge the interest that this award generates and vote to have it join the rest of the awards pack. For more on that and the open nature of how the Hugo Awards works, click here for details.
Last Updated: November 26, 2020