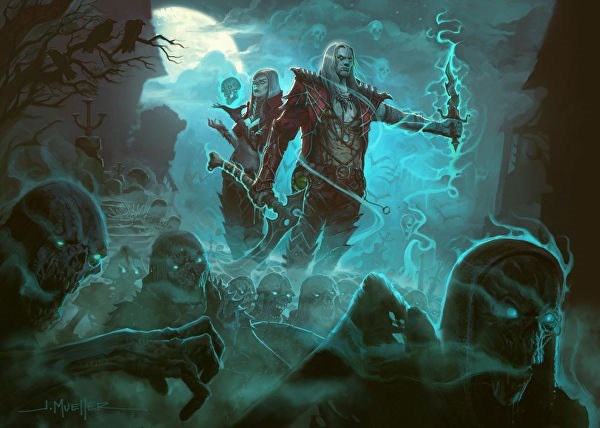 Hot off the back of the news that the original Diablo is being recreated entirely for Diablo III, comes the news that the undead class people have wanted forever is on their way to Tristam. That's right, the Necromancer is coming to Blizzard's action RPG!
The Priests of Rathma—or necromancers, as outsiders call them—have long remained shrouded in mystery. Deep within the jungles of Kehjistan, they train to preserve the delicate balance between the forces of life and death. Now Sanctuary has need of their unique power, and the Priests of Rathma will answer.

The Necromancer will be the next fully-playable class introduced to Diablo III: Reaper of Souls. As a master of the dark arts, you draw your magic from the power of death itself, and command mighty armies of risen warriors! Oh, and you can make corpses explode. There are definitely exploding corpses.
The Necromancer will be available as part of the Rise of the Necromancer pack, set to release in 2017. Players will need both Diablo III and Reaper of Souls to access this content (or, in the case of console, the Ultimate Evil Edition on PlayStation 4 or Xbox One).
Hey, it's no expansion, but it's still a pretty cool announcement, right? The Necromancer won't be free unfortunately (how much the class will cost remains a mystery for now). I don't think that'll dissuade fans though – they've been wanting the undead master for ages!
Hang on, wait, we already have the Witch Doctor class, which also specialises in bringing corpses back to life. What are the differences between them and the Necromancers?
Witch Doctors draw their magic from their spiritual connection to a realm they call the Unformed Land. This more light-hearted take on supernatural powers allows them to command creepy crawly denizens of the jungle and summon mindless zombified pets.

Necromancers can expect darker, more controlled gameplay centered around the raw materials of life: blood and bone. Grounded in a philosophical, pragmatic approach to life and death, they're more like a calculated conductor of the darkest arts. Deadly serious in their practice, they are the experts of curses and reanimation—and their pets obey their every command.
Well, ok then. You have my attention Blizzard. How much is this new class going to cost?
Last Updated: November 4, 2016