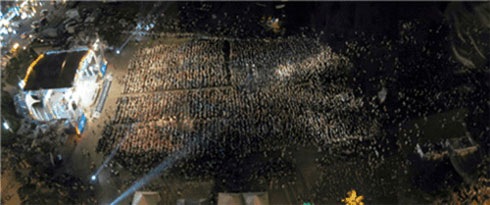 StarCraft is more than just a game in South Korea. It's a phenomenon, something closer to religion. To illustrate just how much, the header image above these words isn't an aerial view of a huge rock concert, or Catholics keen on catching sight of the Pope. Those are people  who've turned p to watch a big Starcraft tournament.
Seeing how ingrained Blizzard's RTS is in the country's culture, it's a pity to see that it's been rocked by scandal.
Investigations are under way that have uncovered corruption in the country's pro-gaming circuit, with many of its top gamers being accused of throwing games for monetary compensation.
Eleven gamers are currently under investigation for throwing matches between 2006 and 2008 – and it's believed that illegal gambling cartels are the ones responsible, recompensing them between USD$1,760-5,730 for losing matches they were expected to win. This of cause ends up causing huge upsets, people losing a ton of money, and the responsible bookies making a whole lot of cabbage.
Worse, the investigations have uncovered "training institutes for professional gamer hopefuls" run by online gambling companies that served as recruitments centres for corrupt players and match fixers.
If this all sounds a little familiar, remember that the devil made him do it.
Still, South Korea's interest in StarCraft boggles my mind.
Last Updated: May 17, 2010