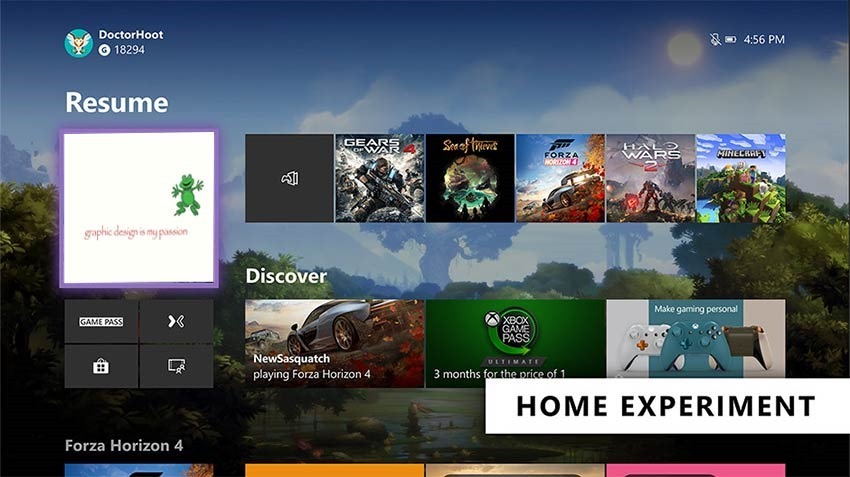 I've said it before, and I'll definitely say it again; the Xbox One's user interface is horrible. It's especially bad on the original Xbox One, where it's not just a confusing clutter of boxes and unintuitive menus, but it's also sluggish and generally unresponsive. Still, it's a little better than it used to be, but that's because Microsoft's redesigned the UI before, and they're doing it again.
The new experimental UI update is rolling out to insiders, and according to Microsoft it's being streamlined and tweaked to offer "a faster Home experience. " It's still based on blocks and menus, but hopefully it's a little easier to navigate. Microsoft says the new UI will make accessing Xbox fare like Xbox Game Pass, the Xbox Community, Mixer, and the Microsoft Store "quicker than ever".
"The Home on Xbox One is the first thing you see when you turn on your Xbox One, and we want to deliver an easy and seamless experience for you to navigate your console. We've heard your feedback and have continued to iterate on Home to get you into your gaming experiences faster and keeping more of your content front and center. With today's update, we're experimenting with a streamlined user interface."
Unfortunately, for those who've become used to using Cortana and voice-activation to navigate the UI, Microsoft is dropping the digital assistant. Microsoft says this change is because they're "moving away from on-console experiences to cloud-based assistant experience".
Once the update has launched players will no longer be able to issue commands through Cortana on their headsets. They will instead have to rely on a second device, using the Xbox Skill for Cortana via the Cortana app on iOS, Android, and Windows. While that's probably going to make the user interface snappier, it's going to remove a little of the Xbox One's accessibility.
It does, however, still seem like users will be able to continue using basic commands (Like Xbox, play etc) via Kinect.
Last Updated: July 25, 2019