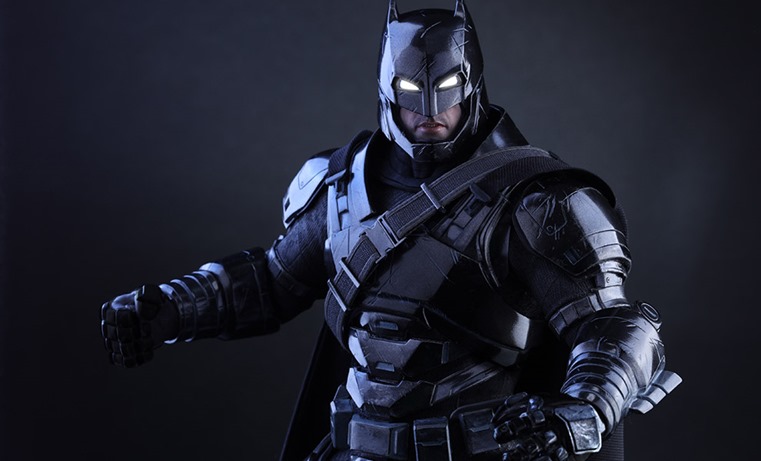 Look chaps, I know all about stealth. My blood has so much ninja DNA in it, that one drop of it can provide enough director's commentary for any Michael Dudikoff American Ninja DVD. But like everything else in life lately, I've found myself torn between my shinobi passions and Mad Max: Fury Road. Plot holes be damned! I live! I die! I LIVE AGAIN!
And that's something that I share with Batman, as the dark knight has clearly been watching Mad Max as of late. I mean, just look at him!
WHAT'S IN THE BOX?
The Armored Batman (Black Chrome Version) Sixth Scale Collectible Figure specially features:
An authentic and detailed likeness of Batman in Batman v Superman: Dawn of Justice
One (1) Batman head with LED light-up eyes (white light, battery operated) and two (2) interchangeable lower face parts by patented Interchangeable Faces Techniques capturing Ben Affleck's facial expressions
Specially applied black chrome coloured armor
Approximately 33 cm tall
Muscular body with over 30 points of articulation
Seven (7) pieces of interchangeable armoured palms including:
One (1) pair of fists
One (1) pair of relaxed palms
One (1) right palm for holding grenade gun
One (1) right palm for holding grapple gun
One (1) gesturing right palm
Each head sculpt is specially hand-painted
Costume:
One (1) meticulously crafted Batman armuor
One (1) specially tailored Batsuit
One (1) black cape
One (1) utility belt
One (1) pair of black chrome coloured forearm gauntlets
One (1) pair of black chrome coloured boots
Weapons:
One (1) grapple gun
One (1) grenade gun
Two (2) grenade gun ammunitions (in closed mode and opened mode)
Accessory:
Diamond shaped Batman v Superman: Dawn of Justice themed figure stand with Armored Batman nameplate and the movie logo
The funny thing is, is that this is just a repaint of the other Batman V Superman figure that is on the way, that has a more accurate paint job. I have essentially become a Simpsons joke:
It's the same price as the regular Armored Batman figure at $250, albeit this one will be riding the Fury Road and waiting for you in Valhalla after finding out what it feels like to receive a Superman P-Klap. Alternatively, you can hit up Vamers if you don't feel like going through the hassle of importing it yourself and endlessly badgering the courier company for updates.
Last Updated: March 8, 2016