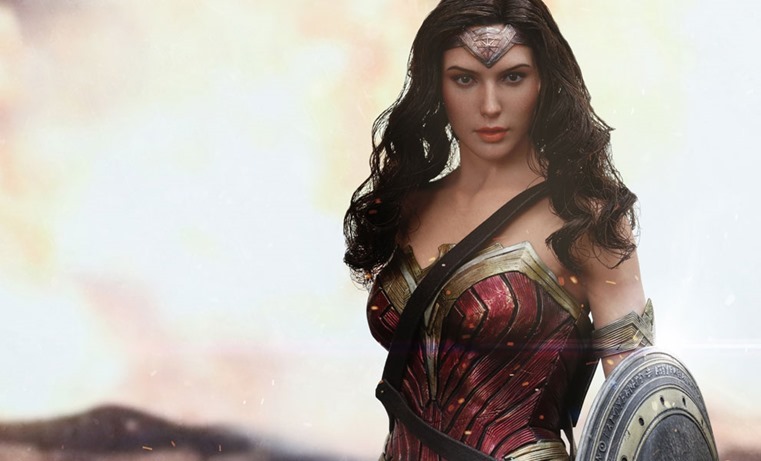 Wonder Woman! She's been in countless comics, TV shows and games over the years, evolving from a naive Themyscirian ambassador into an Amazonian warrior who could kick both Superman and Batman's asses without breaking a sweat. Currently the DC god of war, Wonder Woman is the kind of hero who protects the world from extreme threats while using her greatest power of all, compassion, to guide humanity.
She's finally getting her big screen break next year, but not before she first pops up in Batman V Superman this week to lay the smack firmly down on a genetic experiment gone wrong according to trailers that give way too much information away. And her cinematic appearance is pure golden age. Actress Gal Gadot looks the part, but her signature colours, tiara and costume are an amazing adaptation.
Her sixth-scale action figure however, is uncannily accurate:
WHAT'S IN THE BOX?
The Wonder Woman Sixth Scale Collectible Figure specially features:
An authentic and detailed likeness of Gal Gadot as Wonder Woman in Batman v Superman: Dawn of Justice
Newly developed head sculpt with movie-accurate facial expression, makeup, and gold coloured tiara
Long curly dark brown real fabric hair implantation
Newly developed specialized body with over 17 points of articulation
Approximately 29 cm tall
Six (6) pieces of interchangeable hands including:
– One (1) pair of fists
– One (1) pair of relaxed hands
– One (1) right hand for holding the sword
– One (1) left hand for holding the shield
Each piece of head sculpt is specially hand-painted
Costume:
One (1) specially tailored red, blue, and gold coloured Wonder Woman armour
One (1) brown-coloured leather-like strap
One (1) pair of gold and silver coloured greaves
One (1) pair of red and gold coloured boots
Weapons:
One (1) engraved sword
One (1) shield
Accessories:
One (1) piece of rope (Lasso of Truth)
Specially-designed Batman v Superman: Dawn of Justice themed figure stand with Wonder Woman nameplate and the movie logo
Sweet Xena warrior princess, this is one scarily realistic action figure. That likeness will of course cost you, to the tune of $234.99 when Wonder Woman appears on shelves from July. And I don't need a golden lasso of truth to blurt out how much I want this figure so that I can stand her next to the shiny armoured Batman that I've ordered for myself.
Last Updated: March 24, 2016