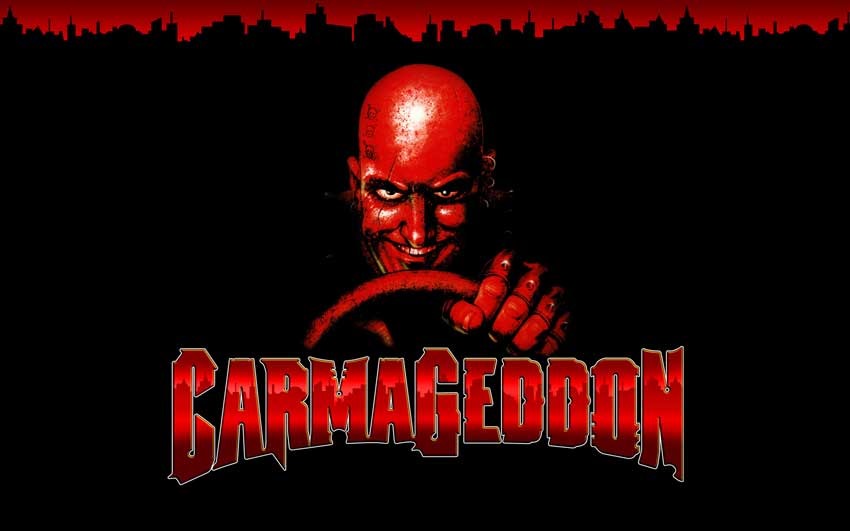 THQ Nordic has been on a tear lately, gobbling up defunct video game properties like a fat kid left unattended in a candy store. 2018 has seen the publisher grab the rights to Alone in the Dark, TimeSplitters and Kingdoms of Amalur: Reckoning to name just a few, but the company is looking for something more vroomy in its future.
A game property that saw widespread condemnation upon its initial release in the 1990s, as distressed mothers pleaded for someone to please think of the children: Carmageddon. You might remember the racing game from its heyday, where players were more concerned with smashing their way through opponents and pedestrians in as bloody a manner as possible, often ignoring the actual racing and just having a blast with some wholesome vehicular homicide instead.
Good stuff, but underneath the hood there was a more than capable racing game purring away, with the rights to the IP now having being snatched up by THQ Nordic (Thanks AGD). Not the kind of publisher to sit idly on their properties either, last month's mixed reception to Darksiders III proved that THQ Nordic is aiming to establish itself as a serious player in the industry. The thing is, Carmageddon already had a 2015 remaster of sorts with Carmageddon: Reincarnation, which was ported to consoles last year.
As Eurogamer noted however, THQ Nordic did acquire Bugbear Entertainment recently, a studio that was responsible for the destructive racing game Wreckfest. Pair that studio with a beloved IP, and you've got the perfect ingredients for a revival of a classic. Heck, if you want to play Carmageddon right now, you could actually go and risk your neck in Silly Season traffic, where it feels like everyone on the road is playing a real-life version of the cult classic game. I'm Carmageddon outta here yo.
Last Updated: December 4, 2018