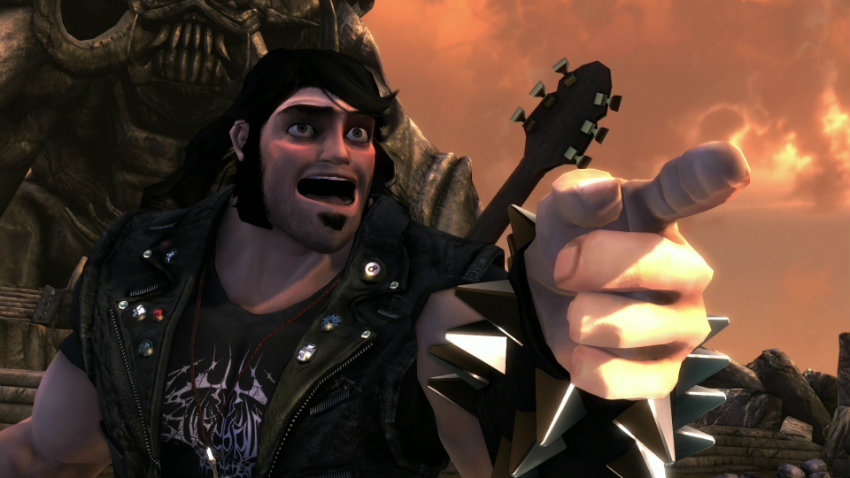 I'm going to go out on a limb and just say it – Brutal Legend is the best thing Tim Schafer has ever made. I know Geoff will probably hate me for saying that, citing something like Monkey Island or Day of the Tentacle instead, but I think Brutal Legend was the best. It was self-aware in the best way, filled with excellent cameos, a fantastic soundtrack and even a pretty unique story. The gameplay was cool for its time, too – I just loved that the more music tropes you recruited, the more you could see them patrolling the open world. Plus it made fun of goth chicks, which as a former/current goth lady amuses me no end.
Brutal Legend was really expensive to make, though, and hopes of a sequel aren't high even now. But that isn't holding Tim Schafer back. Speaking alongside Jack Black on the E3 Coliseum Stage, the first question was if Brutal Legend 2 was coming. Schafer "apologized for giving the impression that his panel with Black tonight would lead to an announcement of the game." Still, he went on to say that, "someday we'll make that game", but that it was an expensive game to make.
Considering how much fans love that game, why is this even an issue? No, it's not a project that could be crowd funded, nor do I trust Schafer with crowd funding anything anymore, but get a publisher on board. Make it happen, with a fully open world, another incredible soundtrack and even more tongue-in-cheek humour. Maybe even rope in some big name music celebrities, this could be far too much fun. But yeah, if those are my expectations, it's probably far too expensive to ever happen. Oh well, I waited 15 years for Beyond Good and Evil 2, I guess I'll just have to patient and hope that one day Brutal Legend 2 also comes around.
Last Updated: June 15, 2017