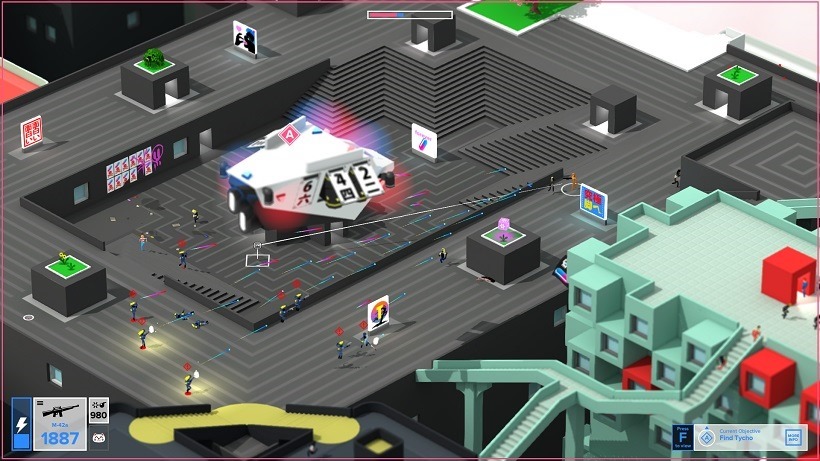 If you've ever played games like Monument Valley and wished that you could just break the camera out of place and move it around, Tokyo 42 might be for you. If you crave bright colours and physics-based gameplay, Tokyo 42 might also be for you. If you like both, then there's absolutely no doubt you'll find a reason to play Tokyo 42 when it launches on Xbox One and PS4 and PC in 2017.
The ambitious, gorgeous project from developers SMAC Games now has two more platforms on top of their previously revealed PC release, with the PlayStation Blog announcing the news last night. Tokyo 42 puts you on the shoes of an assassin for hire in the incredibly dense city of Tokyo. In the not-too-far future, colour has burst on to the scene, allowing you to fully explore an isometric world filled with quests, secrets and more.
You'll take on missions from shady handlers at computer terminals, giving Tokyo 42 a distinct Syndicate type of feel. In terms of gameplay though, it's mayhem. The physics-based title lets you pick up all sorts of weapons in combat, including swords, machine guns and grenades. You'll use them to take out rival gangs, interfering police or corporate controlled drones as you claw your way to the top of Tokyo's hierarchy.
"It's an action game to its colourful core: every bullet and grenade has full physics, enabling you to dodge and weave while you take on rival gang members, the police or sinister corporate drones. You pick up pistols, machine guns, sniper rifles, katanas and a slew of other weapons along the way, jumping and rotating the camera to gain access to new parts of the world."
It's delightful in motion, as the gameplay trailer below shows in abundance.
Revealed all the way back in March, Tokyo 42 has impressed with its captivating visuals and over the top action. I've only really started paying attention now, but the combination of perspective puzzles and frantic action have me itching at the chance to play. Tokyo 42 is expected to be out in 2017, with a simultaneous launch across all three platforms.
Last Updated: September 6, 2016