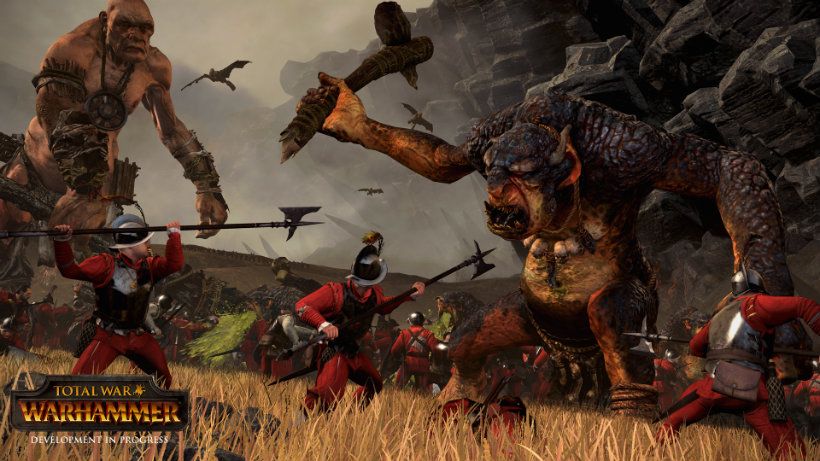 Total War: Warhammer is coming and I have a feeling it's going to be one of the most popular Total War games ever. It features a ton of cool new gameplay running on the Total War engine, but will also bring in all those Games Workshop fans who love all things Warhammer. Of course, fantasy Warhammer fans each have their army (or armies) of choice, and with Total War: Warhammer launching with four playable factions, some might be worried that their favorites will not be included. But fear not!
In what is quite possibly the most entertaining news round up video from the Total War people, some new info was revealed about Total War: Warhammer. You can watch the full video here, although the Warhammer stuff starts around the 2:52 mark.
The game will launch with four playable races: Empire, Dwarves, Greenskins and Vampire Counts. However, if you're sad about the lack of Skaven or Skeletons, it seems you needn't be – over the course of the planned releases for the game, you should be able to get any and all the races and unit types that you would normally have to build for yourself and paint with frustrated loving detail. It seems that some of these will be part of planned DLC for the game, but others might even come for free. Legendary lords will give each player a unique way to approach their specific armies, changing the gameplay experience even within the faction.
There's a nuance to the strategy in this new Total War that I find incredibly appealing. Plus, with the character models and designed being pulled straight out of the Warhammer lore, it feels like this is a rabbit hole that Creative Assembly and the Games Workshop could fall down for years to come. I really hope that this game does well, because it means more loving for strategy and Warhammer fans alike. Plus, if the fantasy version of Total War: Warhammer does well, just imagine what they could do with the Warhammer 40k universe.
Last Updated: October 15, 2015