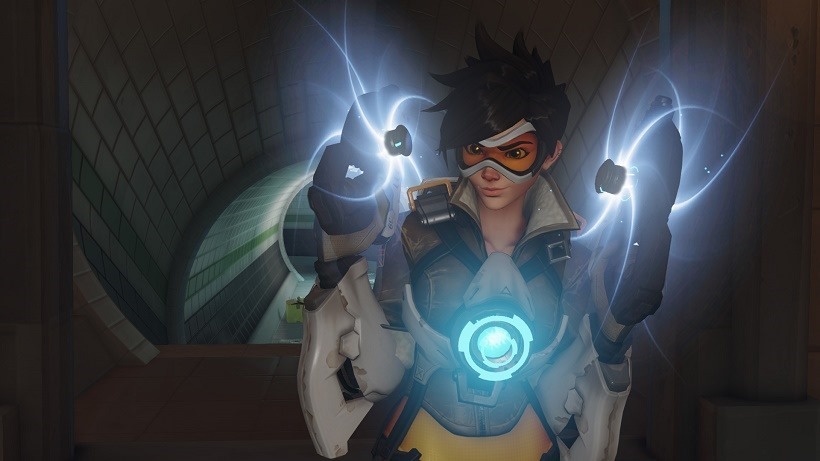 At BlizzCon last year, it was revealed that Tracer would be the first Overwatch character to enter the Heroes of the Storm Nexus. When that would happen though, remained a complete mystery.
The presumption of course, was that she would arrive around the same time as the launch of Overwatch, which was only just recently confirmed to be May the 24th. During the tease of the latest Heroes of the Storm character Dehaka however, I suspected she may be coming a little earlier.
And lo and behold, I was right for once! Blizzard have now officially announced the release date for Tracer – she's coming soon.
Tracer, the time-jumping adventurer from Overwatch, is getting ready to make her Heroes of the Storm debut! Equipped with the chronal accelerator designed by her gorilla scientist pal Winston and a pair of deadly pulse pistols to match, this highly mobile ranged Assassin zips around the Battlegrounds of the Nexus, catching enemy heroes off guard and then vanishing before they have a chance to react.

Tracer will be available starting April 19 exclusively to those who pre-purchase a digital copy of Overwatch: Origins Edition for Windows PC. Starting on April 26, she'll become available for sale to everyone in the Nexus.
Wow, she's coming to Heroes of the Storm more than a month earlier than the release of Overwatch. How exactly will she translate from shooter to MOBA though ? Here's a preview…
Tracer brings a diverse set of unique abilities and talents into the Nexus. She can move while attacking—a first for a Heroes character—and has a single Heroic ability that she can customize by upgrading it in three different ways.
Tracer seems to play almost identically to her Overwatch counterpart. She looks to be a real headache to take down thanks to her blink and recall abilities, and capable of some serious AOE damage thanks to her pulse bomb ultimate. I can't wait to see what talents she'll have at her disposal when she releases later this month!
What about you? Are you excited to have the speedster enter the Nexus?
Last Updated: April 4, 2016