I've played Farming Simulator, and I can honestly say that I disliked it quite thoroughly. I can't imagine there's anything else out there that could simulate boredom just as effectively, except maybe for Train Simulator 2016. It's now available on Steam, and hey, if you're a fan of railways, I ain't judging… but be warned, if you want the full game experience, I mean like every piece of content on offer, it'll only cost you a measly $5000.
But before we talk large numbers, here's the trailer (via PC Gamer):
Take control of a variety of historically significant trains such as the BR 155 and the Union Pacific Gas Turbine-Electric. Traverse some of the worlds most iconic routes including the new heritage Riviera Line based in the 1950's, Cologne Koblenz and Sherman Hill and and Ply your trade and apply your skill to complete some of the most extreme challenges ever seen in Train Simulation.
Train Simulator 2016 will ship with four routes for you to enjoy…
Sherman Hill: Cheyenne to Laramie, including Union Pacific Gas Turbine-Electric, ES44AC, SD70M, SD40-2 and SW10 locomotives
Riviera Line: Exeter to Kingswear, including GWR Castle Class, Grange Class, King Class, Hall Class and Pannier Tank locomotives
West Rhine: Cologne to Koblenz, including DB BR 155, BR 146.2, BR 101 and BR 294 locomotives.
TS2016: Steam Edition also includes the Norfolk Southern Coal District route, the beautifully rural Mon Line running through the heart of Pennsylvania, USA.
Being an absolute rookie at train driving and knowledge on railways in general, all of the above means little to me. For fans however, I'm going to go ahead and assume that it all sounds amazing!
One thing that did catch my attention was all the available DLC for Train Simulator 2016. Never again will point fingers at the likes of Konami or Capcom for being greedy, because this is just ludicrous! There are 236 items on offer, which if all bought, totals in at $5,153.67.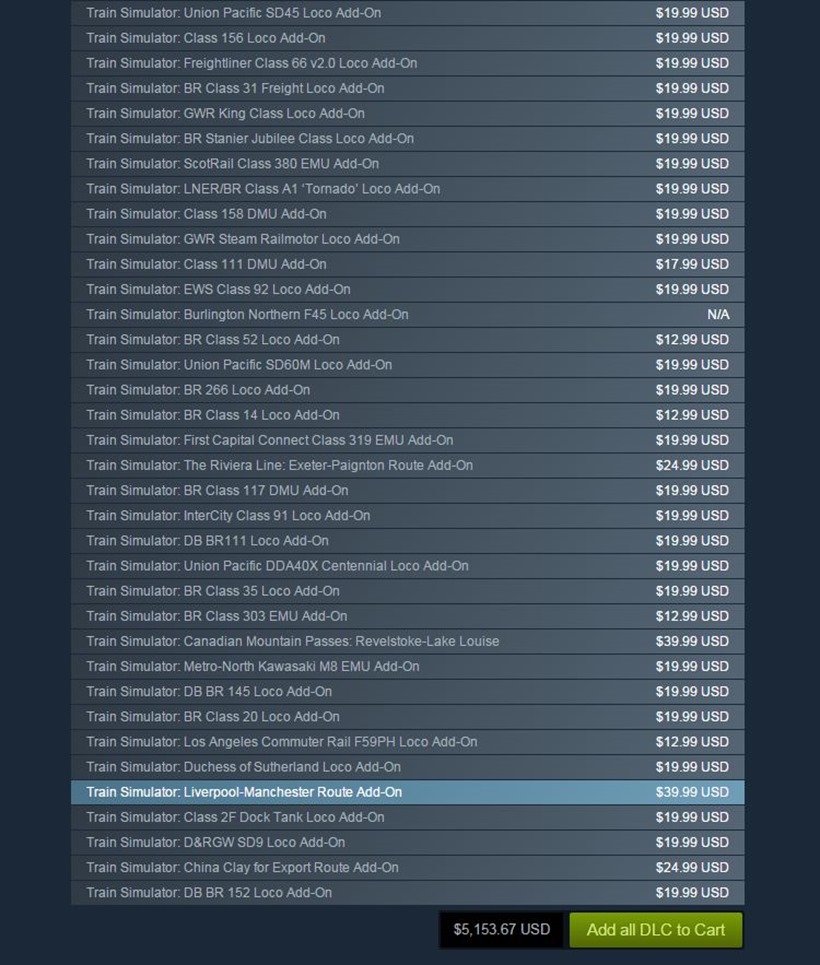 Wow. THAT IS INSANE! How are any of these prices justified? Is the Canadian Mount Passes: Revelstoke-Lake Louise content really worth $39.99? Even with my zero knowledge and experience on this franchise, that seems insanely high!
Oh well, at least Train Simulator 2016 comes with four routes to get things going. It's up to the player to decide if it's worth shelling out for any extras. What do you think? Are you are fan of this franchise? Will you be grabbing this year's edition of Train Simulator?
Last Updated: September 21, 2015