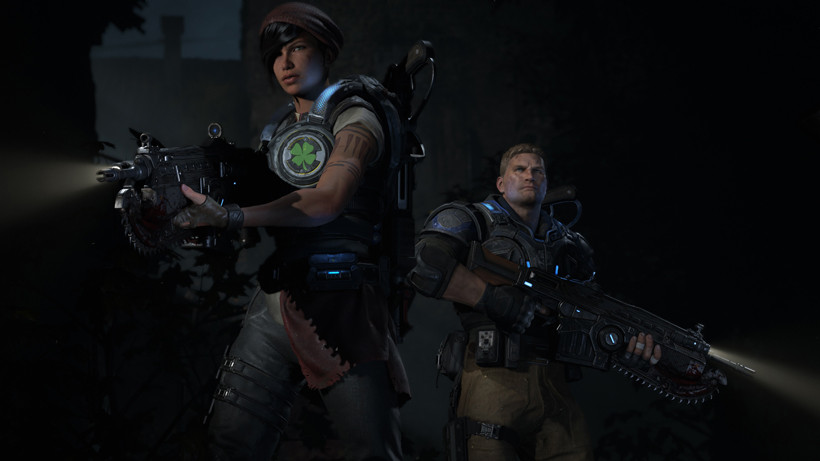 Gears of War! A rollicking romp where players engaged in a massive war with the Locust forces as the mighty COG soldiers who were looking to protect humanity from becoming a footnote in history! WAR, GOOD GOD Y'ALL! Gears of War has always been defined by that neverending conflict with the Locust, a scenario that made for an enjoyable series of games with constantly-escalating battlefields over the years.
But that hasn't been Gears of War at its best. Peak Gears of War was still the first game, a more focused shooter with some unnerving and sometimes terrifying dips into warzones where you're outmanned, outgunned and sweet Sera those damn ticker grubs coming out of nowhere still freak me out to this day. Gears of War, when it balances action with a touch of tension, is the kind of game that I like.
Fast forward a few years, and we've got Gears of War 4 on the horizon. A new trio of protagonists, Marcus Fenix's son JD, Kait and Del. A new story, all set across a 24-hour period as the COG forces have rounded up what's left of humanity and forced them to live inside of walled cities. "There's this notion that the COG is like an overprotective parent trying to preserve life and ensure people's safety," producer Rod Fergusson said a while back to Game Informer.
The Outsiders are a group of people who are purposefully stepping outside the COG and breaking free because they think life isn't worth living unless it's lived free…As we were conceptualizing The Outsiders, we initially started with the hippie movement, but then we realized we wanted them to have an edge and we started thinking of them more like this 1970s motorcycle gang.
That sounds a bit…darker. Which is exactly what Fergusson and Black Tusk studio are aiming for, while still maintaining a healthy dose of action:
@P3NNYW3LL @JasonKeswani @Xbox @gameinformer no – we're not survival horror. We just wanted a darker tone. We're still an action game.

— Rod Fergusson (@GearsViking) March 15, 2016
It's all about the tension, something that was lost in the successive Gears of War sequels as the war became the central focus and the line between good and evil was more clearly defined. Not a bad setup mind you, but Gears of War just works better when the only thing you can trust is the gentle rev of that chainsaw attached to your rifle.
Last Updated: March 17, 2016