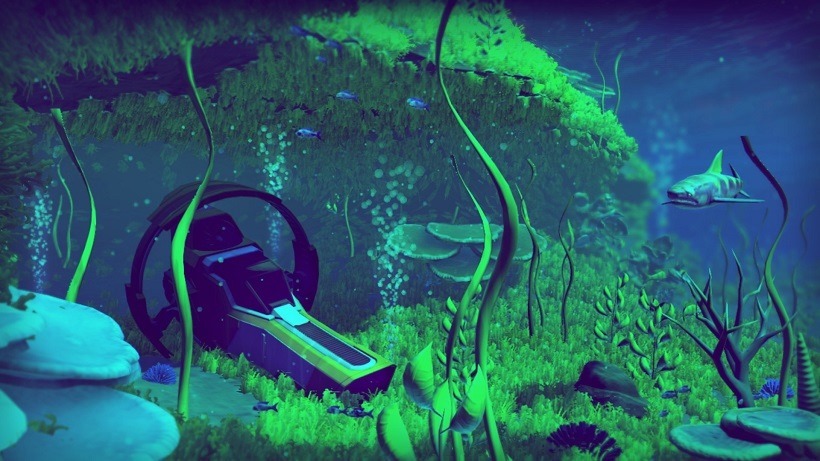 No Man's Sky launched yesterday in the US and is finally available globally on PS4 today, but millions of players have already started pummelling the game's servers. Renaming planets, wildlife and flora has taken its toll on the procedurally generated game's online service, which have handled the extreme popularity of the title thus far. But the real test was getting two players to find each other in the 18 quintillion planet strong world. And it was a little disappointing when it happened.
Because even though it's only been out a day, two dedicated No Man's Sky players have managed to find each other in the same galaxy, on the same planet, and at the exact same spot. Except that when they did confirm that they were in fact in the correct space, nothing of note was there. The two players couldn't even see each other, making the incredibly lonely space trucking journey one that is bound to stay that way forever.
It confirms a few theories that fans had about No Man's Sky before launch, especially after Hello Games was extremely vague about how multiplayer worked. They made it clear that PlayStation Plus wouldn't be required, but it was thought the the reason behind this was more a grace than anything else. Programmer Sean Murray stated that it would be near impossible for players to find each other, and it turns out he was wrong. Not because it happened, but because it literally is impossible for two players to see each other in-game.
Despite that, players TheSadCactus and Psytokat are still trying. They both got PS Plus to see if that changed anything (it didn't), and continue to experiment with the game live on Twitch. Despite not seeing each other, it is interesting to note that the world's they found themselves on were identical (down to finest details). Although when the one renamed an object, it wasn't reflected on the other side – meaning each game might be running on its own instance on the server.
That, or they've somehow managed to stumble on an anomaly. A truly identical planet to another one of the millions out there, tricking them into thinking that they were close together. That's the most unlikely explanation, but right now no one really knows what to make of it. Does No Man's Sky really not have multiplayer?
Last Updated: August 10, 2016