In the past several months, Twitch.tv, one of the largest streaming sites in the world, has been rolling out updates on new features within the site. Twitch first went on a social tirade with the addition of chat and social sharing, and now Twitch has added Clips – a way to click and share highlights from your favourite streamer or competitive match.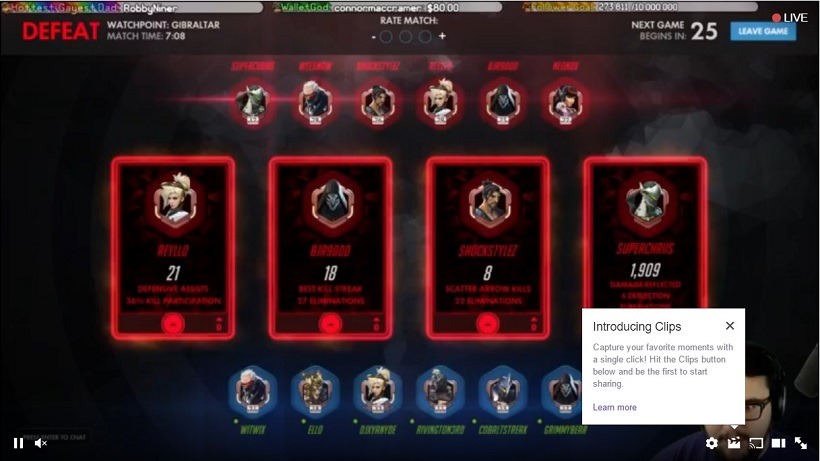 The underlying factor here is that in the past many third party programs have existed and integrated with Twitch. The private chat addition came mostly from an extension known as rechat, which was implemented after the creator of rechat joined Twitch.tv. In the past shareable highlights came in the form of Streamable, Oddshot, and more recently Plays.tv, who had already partnered with tournaments hosts in CS:GO, encouraging people to share their favourite stream highlights. Oddshot.tv is easily one of the most popular third-party sharing addons in this current form, and the addition of Clips will more than likely shift users focus to the easy one click share option with Clips.
There has been no official mention on whether either of the above-mentioned programs (more specifically Oddshot and Plays.tv) has moved over to Twitch, similarly to rechat, but the new Clips addition is far more integrated into the live streaming platform.
According to the official announcement:
When you share a Clip with your friends, they can jump right in and join you in the live stream. If the stream has already wrapped up, they can follow the streamer or keep watching the recorded broadcast right where the Clip left off. Your Twitch ID is at the top of every Clip you make, so you'll always get credit for being the first to spot something great.
Once again Twitch will roll out Clips to partnered channels and specific users, with the full implementation being carried out in the upcoming weeks. We look forward to seeing your favourite Clips.
Last Updated: May 27, 2016