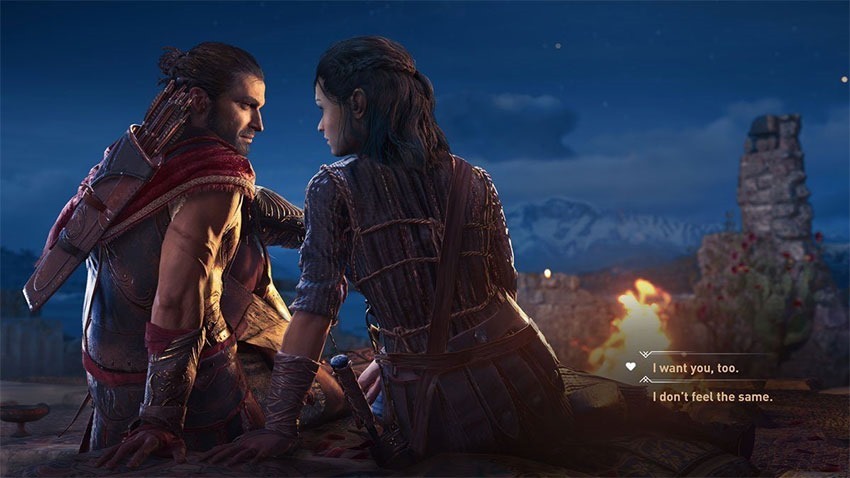 Earlier this month, the latest DLC for the otherwise incredible Assassin's Creed Odyssey realised a bit of ire when it nullified player choice. When that's done in clever and surprising ways for specific purposes, that can be additive to the experience. In this case though, it made many people upset that many of the choices they'd made in the game to date were pointless.
Assassin's Creed Odyssey moves the series towards full-blown RPG territory, and one of the game's biggest selling points was the choices players would be able to make, especially when it came to relationships. Though much of that boils down to having sex or not having sex, people become attached to their characters in RPG, and don't especially like it when they're made to do things out of character. In the Legacy of the First Blade DLC episode Shadow Heritage, even if players opted for same sex relationships or to not have relationships at all, they were forced into a heterosexual romance.
Ubisoft later apologised for missing the mark, adding that the developers will "work to do better and make sure the element of player choice in Assassin's Creed Odyssey carries through our DLC content so you can stay true to the character you have embodied throughout."
Now, they'll be changing the end of that DLC to better reflect player choice. There'll be a change to the cutscene and a bit of a dialogue change, and it should make everyone happy. The people who weren't affected by this and played with heterosexually will have everything remain the same, while there'll be a different outcome for those who opted not to. It'll be interesting to see how they pull it off.
"After hearing player feedback and discussing within the development team we are making changes to a cutscene and some dialogue in Shadow Heritage to better reflect the nature of the relationship for players selecting a non-romantic storyline. These changes, along with renaming a trophy/achievement, are being made now and will be implemented in an upcoming patch," Ubisoft wrote.

"We've also been carefully looking at the next episode, Bloodline, to ensure the paths that players experience mirror the choices they make in game."
Last Updated: January 25, 2019