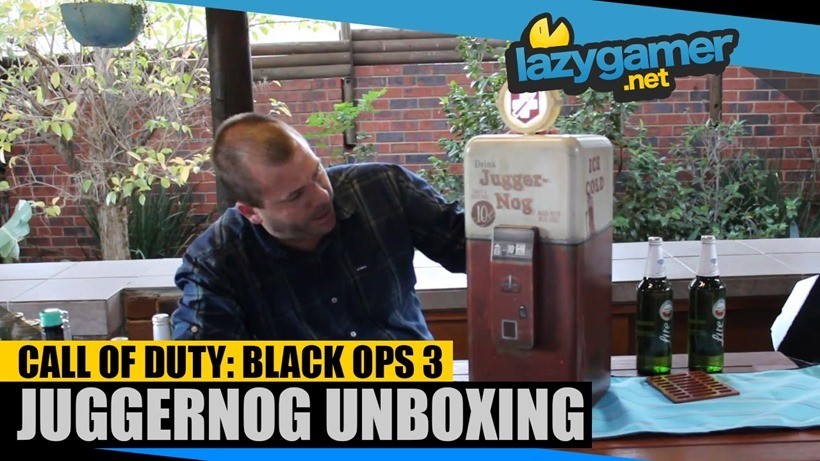 Oh happiest of days for fans of bullets, faces and combinations of the two. It's a Call of Duty release day! Most of you will most likely have bought the vanilla edition of the game, or at least some special edition with some DLC thrown in for good measure. And that's fine. That's your choice.
But for at least twenty of you, you needed more. You needed the game, extras, DLC and an entire fridge to along with it. Honestly, what kind of a person buys a video game special edition fridge, HUH?
Apparently, the guy who pays my salary, that's who. So sit back, grab a cold one and watch as the original Lazygamer himself makes a rare video appearance, and sciences the hell out of an unboxing. Ladies and Germans, I give to you the Lazygamer unboxing of the Call of Duty: Black Ops 3 Juggernog Edition:
If you can't see the video above, here's the facts. Gavin unboxed a massive cart that included:
Juggernog mini-fridge
Perk-A-Cola coaster set with custom tin
Limited Edition specialist concept art cards
The Giant bonus map
Collectible Steelbook
Official Call of Duty Black Ops 3 soundtrack
In-game bonus content: Weaponised 115, Cyborg and a bonus pack
Right, so according to our cutting edge science, the Juggernog fridge can hold upwards of:
12 normal 330ml cans
8 long-Toms (To our Yank pals, that's a regular MACHO-size beer)
Two quarts (To our Yank pals, that's a regular SOUTH AFRICAN-size beer)
Four dumpies (Or enough beer for ten minutes)
One half-drunken bottle of wine hic WHAT YOU LOOKIN' AT HUH?
At least most of a severed head in case the cops are about to search your apartment.
Now if you'll excuse me, I need to hide from Gavin and his righteous retribution, after I slipped some of his flubs into that video.
Last Updated: November 6, 2015