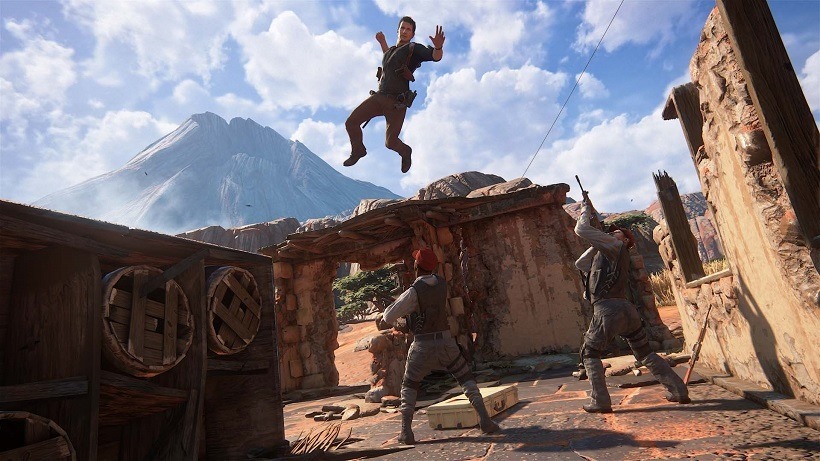 Uncharted 4 is finally in the hands of gamers that don't take up robbing delivery trucks in high speed transit, and the game is pretty spectacular. I've only just scratched the surface of it myself, but so far it's easy to see some of the painstaking work Naughty Dog has poured into their final entry in the series. It's serious, more grounded and sometime as hilarious as you remember the series for being – and that's not only when it comes to narrative.
Poking fun at themselves and some past embarrassments, Naughty Dog has hidden more than one entertaining trophy for players with a keen memory to find. If you recall E3 2015, you'll remember a particularly embarrassing moment for Naughty Dog on stage at the Sony press conference. Just as their live demo was about to begin the controller gave out – leaving a stationary Nathan Drake on screen for nearly a minute.
It's a moment that Naughty Dog recovered from with ease (especially since everyone now knew what they saw was real gameplay), and it's one they'll reward you for recreating. Check out how you can snag the easiest trophy of your life in the video below.
Aside from recreating demo blunders, Uncharted 4 also makes fun of some of the issues its had with the series and protagonist Nathan Drake in the past. Nathan, aside from being a likable treasure hunter, has a serious knack for killing people. This goes against why we like him, and can more commonly be referred to as ""Ludonarrative Dissonance" – the point in a game where the narrative doesn't match up with how the game actually plays.
Kill 1000 people in Uncharted 4, and you'll be rewarded with the Ludonarrative Dissonance trophy for your serial killer ways. Because who doesn't want a happy ending for a guy who has killed that many people.
Uncharted 4 is out now on PS4, and it's looking like the best game on the system thus far. Don't miss it.
Last Updated: May 11, 2016