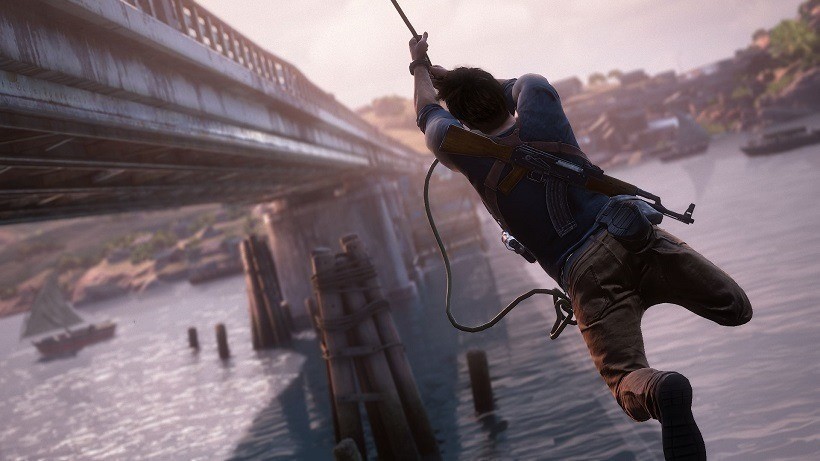 Uncharted as a series is known for many things, but standing tall above anything you could possibly name are its set-pieces. Segments of gameplay that mirrored some of the finest work in action movies, Uncharted has a real knack for making you feel at the centre of the action. Whether it be aboard a speeding train, escaping a capsizing ship or outrunning a helicopter gunship, Nathan Drake loves getting into the thick of it for fun.
Uncharted 4, however, might actually be quite different.
One of the biggest criticisms that Uncharted 3 managed to garner was its weird pacing, which often felt that you were being shuffled from one explosive encounter to the next. Game Director Neil Druckmann attributes this to the need to always go bigger and better than the last game, making Naughty Dog focus on creating bigger, more action-orientated set-pieces over more character focused ones more often. That's changing a little in Drake's final adventure, in part thanks to the work done on The Last of Us.
"The first three had this trajectory of going bigger and more badass – we didn't want to continue that trajectory, we didn't want to become a caricature of ourselves. So we said, ok, set pieces are important, but how do you better tie set pieces with story so they come in at the right time to mirror some kind of personal conflict in the story?

"But also something we learned from the Last of Us is not all set pieces have to be big and explosive. Some of them can be small and intimate – and that lets us get much more interesting and introduce different pacing than in the previous Uncharted games"
The Last of Us – aside from its water sections – had some supremely designed pacing, with short, intimate set-piece really bringing some of the character to both Ellie and Joel. Considering Uncharted 4 seems like a far more personal story than before these types of moments could be exactly what Druckmann is referring to. Moments of exposition rather than explosion.
Still, that doesn't mean Uncharted 4 will be unrecognisable. You just have to look back at the gameplay demo from E3 last year, which once again showed Drake's fetish with living life on the absolute edge. Or a truck. Hanging for dear life. Uncharted 4 is out on PS4 this April.
Last Updated: January 11, 2016