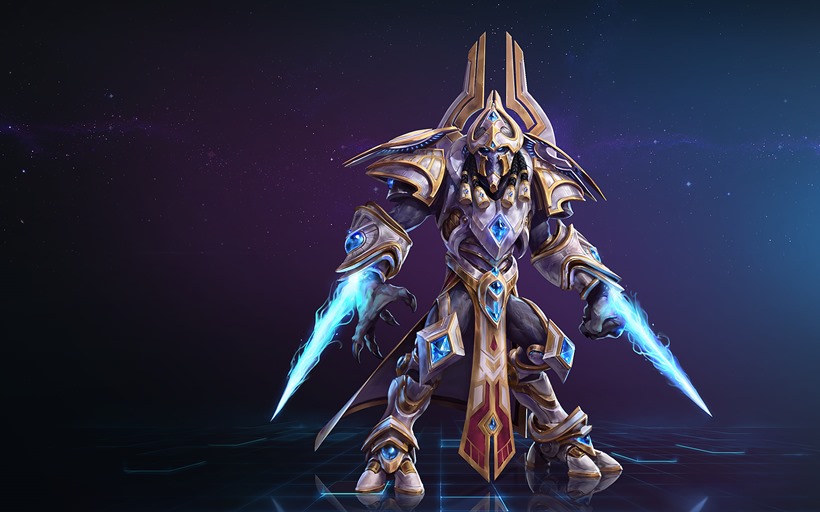 Thanks to the looming Legacy of the Void release, Heroes of the Storm is getting some much needed StarCraft II loving. Two characters from the RTS franchise, Lieutenant Morales and Artanis, will be joining the MOBA roster. The Terran medic will be available from today as a matter of fact, while Artanis will only be wondering into the Nexus much later, on October the 27th to be exact. Want to gain access to the Protoss warrior a little earlier though? You can – if  you've pre-purchased the upcoming StarCraft II expansion.
While you lead Artanis to the furthest reaches of the Koprulu Sector in search of hidden artifacts and a powerful dark god in Legacy of the Void, you'll also be able to charge him into combat on the various battlefields of the Nexus. That's because all purchasers of StarCraft II: Legacy of the Void will unlock access to Artanis in Heroes of the Storm.
This little titbit of information isn't actually new or anything – it's been long known that Artanis would come as a bonus unlock for those who purchased Legacy of the Void. No, the real news today is this…
In addition, those who have pre-purchased a digital copy of Legacy of the Void will gain exclusive access to Artanis starting October 20 PDT, a full week before he is available for sale on October 27. So whether you enjoy StarCraft, Heroes, or both, this is the perfect opportunity to experience the StarCraft universe and its characters in ways you may never have before.
Pre-ordered a physical copy? You'll have to jump through some hoops I'm afraid, and contact customer service anytime after the 20th of October.
It seems so minor, but I know some people will jump at the chance to access The Protoss Protagonist earlier, even if it just for seven days. Personally, I am a patient chap, so I will happily wait for November 10th, when I get my grubby paws on Legacy of the Void.
Basically, this isn't a pre-purchase incentive I'm willing to go out of my way to acquire. What about you? Have you pre-ordered the RTS? Are you excited to enter the Nexus as Artanis earlier than others?
Last Updated: October 7, 2015