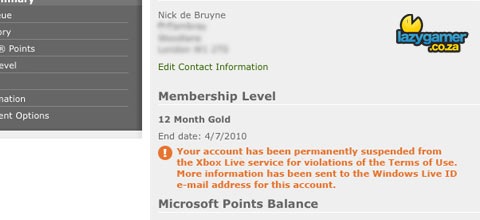 [Update: This was an April Fools article]
Sigh… the day, and news, that we all feared is finally upon us and you really aren't going to like it.
We have already received reports earlier that an update is causing a "not available in your location" error for some people, but shit just got real. We have just received more tips from readers that their consoles are being banned and I can personally confirm that this is no joke, the image above was taken from my Xbox.com account page this morning.
It seems that Microsoft are banning all consoles outside of Live Supported regions over the course of today. So according to our local Microsoft office's comment given earlier today, they were very aware of the situation and are now hinting at a possible roll out of Live support for South Africa and other regions to be announced at E3.
More info after the jump.
[Thanks AfroNinjaZA and Sp4wnKi11er for the tips]
While that last part sounds great, this ridiculous and unfair move now leaves us without access to Xbox Live at all. Best case scenario we are going to get an announcement at E3, but the way things usually go, they will probably only roll it out at the end of the year, and that's if we are lucky.
We are putting together a petition, we will post more details about it soon. For now ladies and gentlemen of sunny South Africa, it's finally time that we all moved over to PSN.
After this sort of treatment, I don't even know if I will ever bother going back to Xbox Live even if they bring it to South Africa legitimately.
Last Updated: April 1, 2010