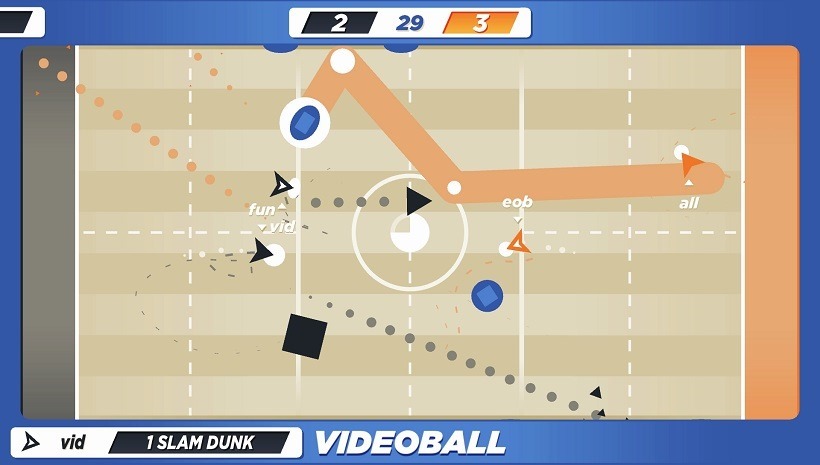 To call Rocket league a success would be an understatement. The vehicular sports title cost a meagre $2 million to make, and just a few weeks ago revealed that they had surpassed around $110 million in revenue across all platforms. It's unsurprising, given Rocket League's intense mix of tactical play and ridiculous physics. It's almost as if sports games don't need to be real sports games to be incredibly entertaining – a theory Videoball is really putting to the test.
I must admit – I hadn't heard of Videoball until this morning. This colourful 2D sports game has been in development for years now, with hands-on features and previews stretching back into 2014. It's out today on Xbox One, PS4 and PC, and it's looking like the one sports game that is going to force me to put Rocket League on extended vacation. Take a look at the launch trailer below.
Looks simplistic, right? Well to be fair, that's the real hook to these games. Mechanically, Videoball is straight forward. You shoot little triangle to move the ball, charge up shots for greater power and use all sorts of other abilities to block shots, kill opponents and more. The depth comes in the strategic play, something which both Polygon and Destructoid found the game to have in abundance in their overwhelmingly positive reviews.
Via Polygon, who scored it 9/10:
Every piece of Videoball feels crafted for competition, and even when I was getting whipped by the game's AI opponents, it was a joy to play. With the pinpoint control and endless playability of the best arcade sports experiences, the small team at Action Button Entertainment has invented something wonderful and new in Videoball.
While Destructoid (with the same score) had an equal amount of fun:
Don't sleep on Videoball. It might not be the future of eSports, but it is the future of several fun, sweary, elbows-in-each-others-ribs nights with your friends.
Videoball is out now in PSN, Xbox Live and Steam. It'll set you back $9.99.
Last Updated: July 13, 2016