If you're anything like me (god help you), you've probably been binging on some delectable Star Wars nostalgia over the past few weeks in some extremely premature preparation for The Force Awakens this year. Watching the original trilogy again, it's easy to pick out some of the best moments. The inevitable "I am your Father" bit of Bespin, the delightful Battle of Hoth and, of course, Speeder Bikes with Ewoks riding them.
Turns out, you'll be able to recreate two of those scenarios now in Star Wars Battlefront. Sort of.
According to a snippet from this month's PlayStation Magazine UK, Star Wars Battlefront will let you kick back from the constant power struggles and take exhilarating races around the moon of Endor on a ridiculously fast speeder bike. Just like the single-player/ co-op missions, Speeder Bike racing will be a separate mode outside of the traditional competitive warfare, letting you race with a friend or AI at your leisure.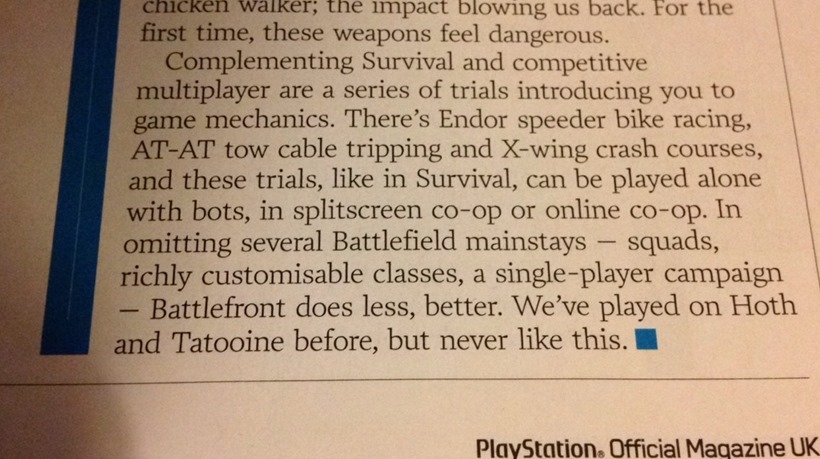 Of course, Speeder Bike racers come in place of more requested features that have been oddly omitted. Probably the biggest fan requested (yet ignored) feature is Space Battles, with Star Wars Battlefront keeping action close to the ground and in fairly restricted flying space above them. I'm not saying Speeder Bike racers sound silly (I'm actually quite excited to try it myself), but maybe more meaningful features could've replaced it.
That said, it was probably pretty easy for DICE to get races up and running, considering Speeders are mostly likely a staple vehicle on certain maps. It's a lot easier than massive online space battles sure, and I'm also glad to see some less competitive, offline content make its way into the otherwise multiplayer only title. Not as good as a story mode, but still something.
Star Wars Battlefront is looking like an absolutely visual and audio treat for any Star Wars nuts out there, and it handles like a pretty capable shooter so far too. It's out in November.
Last Updated: September 16, 2015