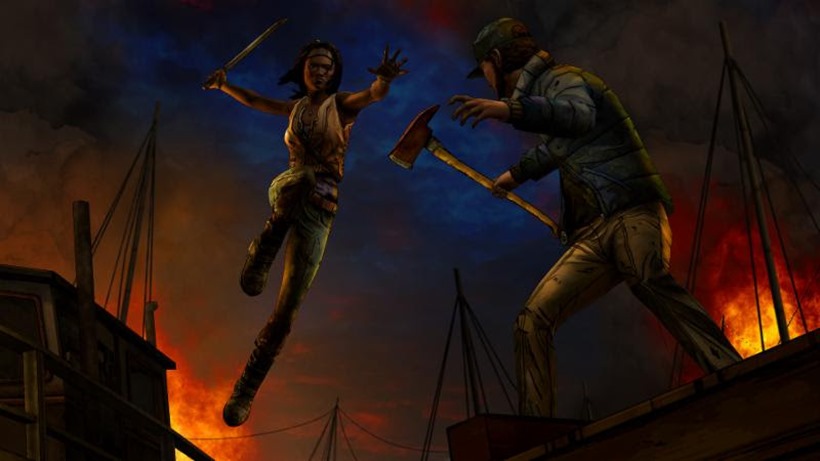 Previously, on Telltale's The Walking Dead: Michonne – drama, click click click, walkers, people on a boat, more walkers, plot, scchhhwing, confusion, bad people, walkers, shhhluuurp, exposition, backstabbing, trust issues, decisions, "no I shouldn't have made that choice", suspense, gunfire, walkers, and more. All in all, a lot happened in 'In Too Deep' – the first episode of Michonne's miniseries.
Admittedly, I did find it a bit flat overall (you can read my review of it right here), but Michonne is an awesome character regardless, so yeah, consider me still very excited for the next episode of the saga, "Give No Shelter". Here's the trailer for it (WARNING: Spoilers), which by my calculation, has a higher body count than all Rambo movies combined.
In this tense second chapter, a daring escape from the floating colony of Monroe sees Michonne, Pete, and Sam running for their lives. An all too brief reprieve is soon shattered; the leaders of Monroe don't forgive and don't forget. With memories of her daughters bleeding ever further into Michonne's blurred reality, her world is becoming increasingly fractured… just at the point when she'll need all of her skills to survive.
The action sequences from 'In Too Deep' were amazing. Seeing a lot of them in the trailer for 'Give No Shelter' makes me very, very happy.
That being said, I am keen to explore more of Michonne's character too. Her psyche is pretty messed up, and it's interesting to see how she somehow keeps herself together, all the  while surviving the zombie apocalypse.
As for the people around her, they unfortunately, feel a little lifeless. I really hope this next episode picks up the pace a little at least, and gives me some proper reason to remember the cast.
The Walking Dead: Michonne Episode 2: 'Give No Shelter' is out today. I've checked my own game, and it hasn't been unlocked just yet. It should be available by tonight the very latest at least if I'm not mistaken.
Last Updated: March 29, 2016