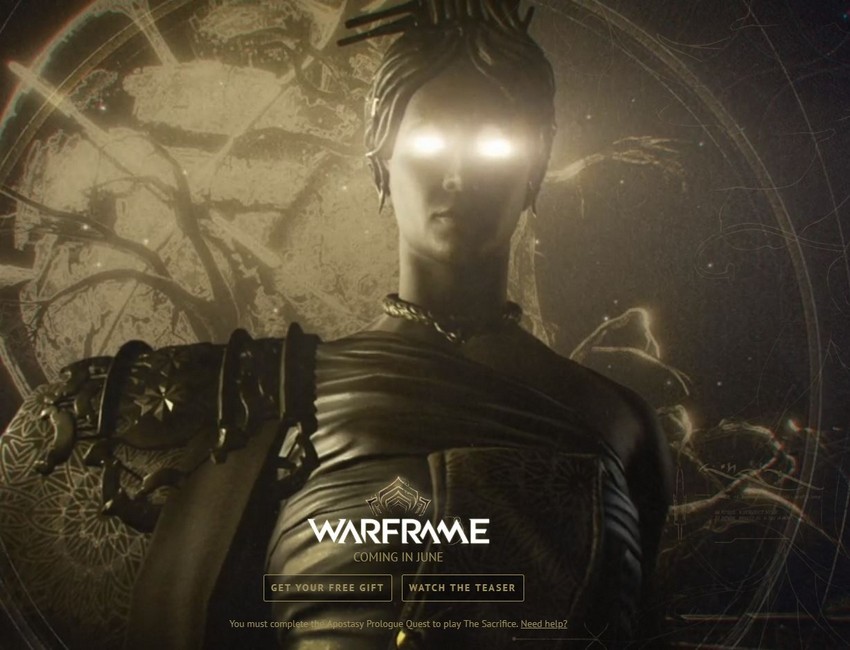 Last week's Devstream 112 may have given us our first look at Warframe's new vampire\Eidolon inspired frame Vlad, but it didn't really bring us anything in terms of details for the long-awaited upcoming cinematic quest, The Sacrifice. That has all changed now. Well, kind of, if you were willing to do some digging into the new official Sacrifice website and a teaser trailer that launched last night.
To be honest, the teaser trailer really doesn't tell us much of anything. Besides for simply honouring some of the game's most longtime players by showing off their operators and warframes, with the occasional sprinkling of dialogue, the main thing people took away from it was the link at the end that revealed the code "OLDFRIEND" which can be redeemed for an Orokin tea set for your Orbiter (TENNO TEA!) as well as a 3-day affinity booster. Many are speculating that "OLDFRIEND" is actually in reference to John "TotalBiscuit" Bain, the popular gaming critic who recently passed away from cancer and whose early video review of the Warframe alpha was instrumental in launching the game to the success it is today. (Can whoever is cutting onions in here now please stop it!)
Beyond the trailer, it's actually the website that had a bunch of clues hidden in it if you knew where to look. Luckily, some fine folks over on the Warframe sub-Reddit went full CSI on this one (ENHANCE!). The landing page shows the Orokin executor Ballas (please note: this is not an Afrikaans word) with his giant arm and glow eyes standing in front of Lua, the cracked remnant of the moon, as ominous music plays. Click on a specific spot on Lua as well as Ballas' eyes and the following two lines of his dialogue are revealed: "Lua brings you strength. But you cannot defy your creator."
It's believed that Ballas was the possible creator of the Warframes themselves as well as the Transference process his lover Margulis used to get the Tenno to control the Warframes, so it's clear he's referring to himself. Lua was also where Lotus hid the Tenno for ages in the Second Dream and which also served as their source of power. What his plans are uncertain, but the way he was able to manipulate Lotus into abandoning the Tenno and joining him for an unknown destination (come back, Spacemom!) doesn't bode well for the Tenno themselves.
Besides for the dialogue, a Redditor with the glorious username of A_City_Built_On_Porn actually managed to translate the wispy bits of Tenno text that flittered around on the website as well.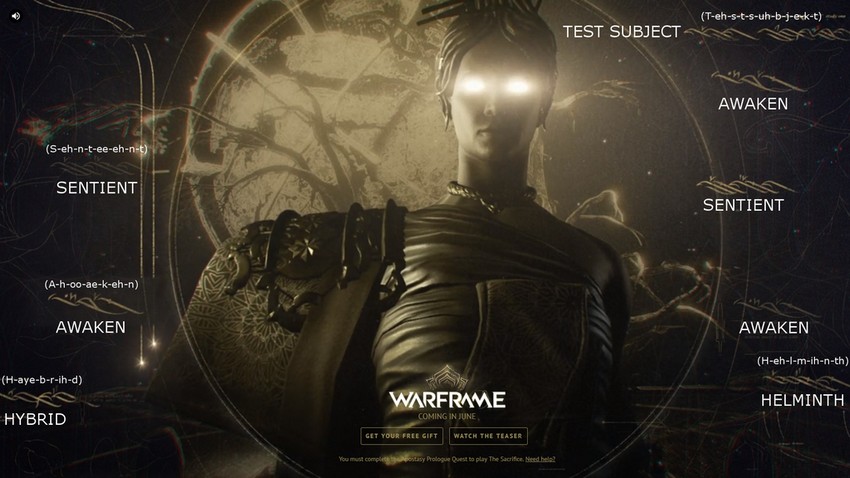 Further analysis of some content that flashes even more briefly on-screen shows what appears to be an Excalibur warframe and references to something or someone called "Subject 9". We know that The Sacrifice will be introducing a brand new version of Excalibur called Excalibur Umbra, but we don't know exactly how this Umbra version is different (except for its fabulous scarf) or how it fits into the game's lore.
The "Helminth" in the text above already has people speculating though as it refers to the rather gross living organism found in your orbiter which can be used to cure warframes infected with Helminth cysts during missions. The Helminth is completely out of place on the ship, and Cephalon Ordis refers to it as a "necessary evil" to control biological functions. This has led some to speculate that maybe Excalibur Umbra is somehow related to the Helminth and it – and any other possible Umbra warframes still to be released – will be able to use the Helminth for more than just popping gross pimples on your neck. Maybe you can do some form of stat or abilities customization? Give yourself more shields but then "sacrifice" armour, for example?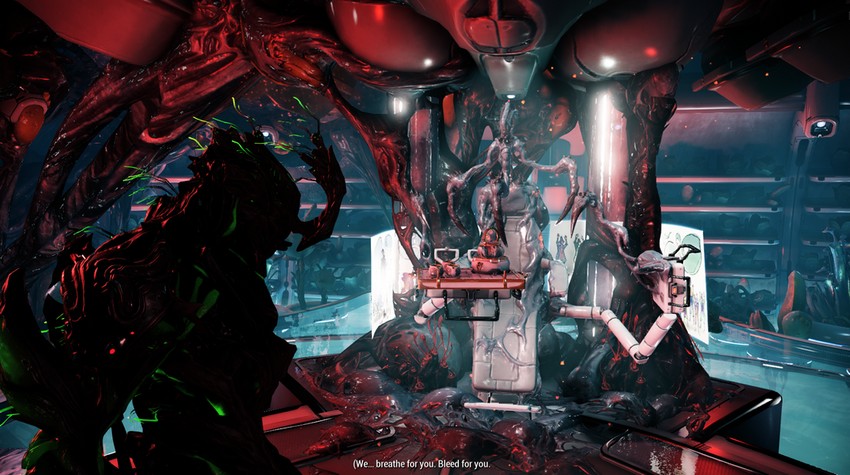 It's all just wild speculation for now, but it won't be for long as the website confirms that Sacrifice will be out this month, June 2018, although it doesn't give an exact date. Tennocon, the annual Warframe convention hosted by Digital Extremes in Canada, takes place this coming Friday, so we will probably get an actual date there. Well, at least a date for PC players as new content always arrives on that platform first before hitting consoles a couple weeks later. It's okay, PC players, you can be the beta testers for me and my fellow console Tenno.
Last Updated: June 5, 2018