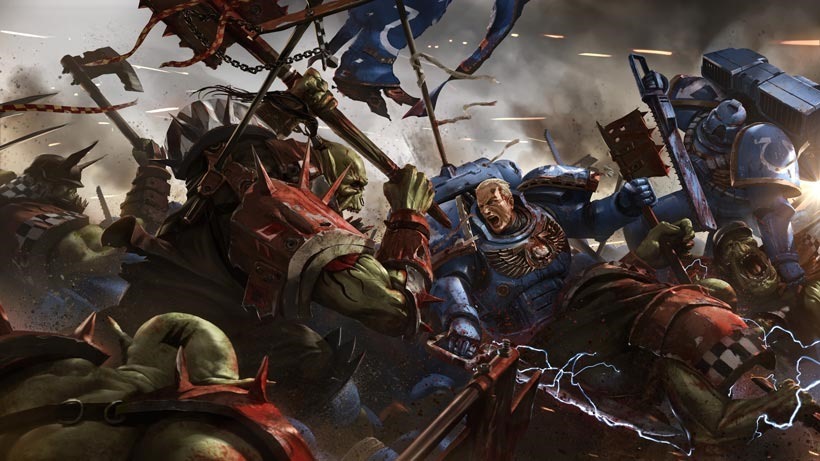 One day, when the world is reduced to a barren husk after the nuclear bombs have fallen and have extinguished humanity, only three things will have survived: Cockroaches, a very hungover Keith Richards and Warhammer 40K games. These days you can't turn a corner without walking into a titanic assemblage of machine and muscle known as a Space Marine, as the Warhammer 40K franchise is everywhere.
There're already numerous video games on the way, including the likes of Space Hulk: Deathwing, Total War: Warhammer 40K and Battlefleet Gothic Armada. And now there's another game featuring the fan favourite Space Marines going head to head with the worst of the galaxy. This time, Bandai Namco is cracking the whip on Warhammer 40 000: Eternal Crusade.
Scheduled for a US summer release on PlayStation 4, Xbox One and PC, Warhammer 40 000: Eternal Crusade plays out along the lines of  shooter MMO with PvP and PvE setups that allows players to "choose from twenty different sub-factions, earn hundreds of weapons, customization options and accessories drawn from 29 years of Warhammer 40,000 lore to create their perfect warriors," according to the press release.
Here's a bunch of screens of Warhammer 40 000: Eternal Crusade to get you hot under the collar:
This pretty much looks like the closest that I'll ever get to having the Warhammer: Space Marine sequel that I've been yearning for ever since THQ was lost to the great space-chasm known as bankruptcy. Which may have been the real War in Heaven that the Warhammer 40K lore frequently references back to. Warhammer 40 000: Eternal Crusade is also currently out on Steam Early Access. And it looks…alright!
Now throw in some more Necron classes and give me the option to buy a Ziggurat fortress to rain down unholy C'Tan energy from on those damn pesky Space Marines, and I'll be properly happy.
Last Updated: January 27, 2016