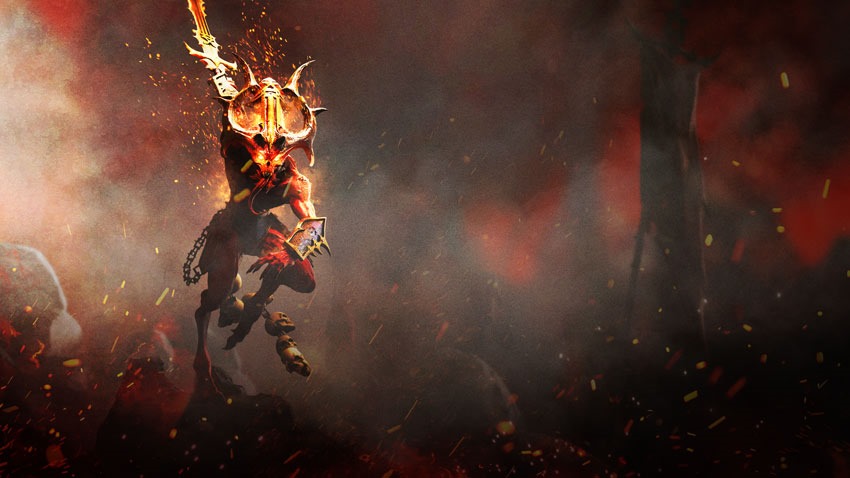 I don't know if you guys are aware, but there's this tabletop role-playing action figure game series called Warhammer, and apparently it's popular. So popular in fact, that there even a few video games out for it! I mean, it's not like the license for Space Marines and cosmic Catholic battlecrusiers has been run into the ground yet, has it?
Anyway, while Warhammer 40K may be a swirling vortex of numerous games being constantly ejected out of its gaping maw, the original Warhammer seems to have a bit more modesty when it comes to handing out development rights. There's plenty of games out there set in the more medieval section of that franchise, but they've usually got a higher level of quality and consistency applied to them.
Well here's some more Warhammer in a different genre vein, just in case you can't get enough of the stuff, like some sort of addict who snorts a line of powdered Drakesworn Templar in the morning: Warhammer Chaosbane, a new game that aims to take a stab, hack and a slash at Diablo as it goes for the RPG jugular:
It's an easy enough story to follow: Chaos gods are up to their old tricks again, demons are everywhere and somebody has to stop their rampage. You'll be able to do just that, as either a human captain, high elf mage, dwarf berserker or a wood elf waywatcher. I swear I'm not making up words right now. Warhammer: Chaosbane will be out for PS4, Xbox and PC on June 4, with Magnus Edition players able to start playing from May 31.
There'll be two beta periods for the game available soon as well: One in March and another in April. Until then, I'm going to hold out and hope that we finally get a Warhammer kart racing game. It's going to happen, sooner or later.
Last Updated: February 14, 2019