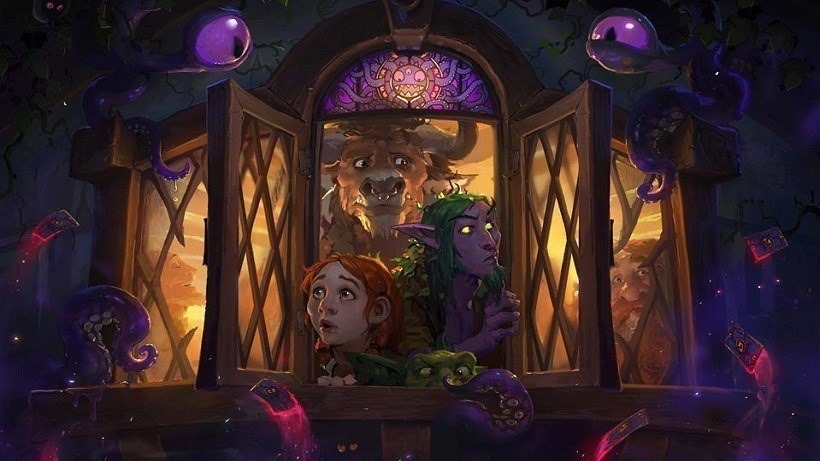 When Blizzard announced the new expansion for Hearthstone, Whispers of the Old Gods, I began hoarding up as much gold as I could. My plan was simple: on release day, I'd have piles of coins, and I'd use them to purchase millions of packs of cards, and then I'd open them all, and then I'd basically get at least a dozen legendaries or so.
Except, that's not what happened at all. By the time the Old Gods rolled around, yesterday to be exact (FREEDOM), I'd only accumulated around 2300 gold or so. That as you know, translates into a measly 23 packs of cards.
Thankfully, to celebrate the launch of this new expansion, Blizzard put some systems in place that promised 13 extra packs for free. 3 arrived in my hands simply by logging into Hearthstone, while the other 10 required winning a couple of games in the new standard mode before they were handed over.
After a lot of hard work (ie: losing lots, and winning every now and then), I finally received the goods. It wasn't quite the millions I had originally envisioned, but hey, 33 card packs ain't too bad, right? Surely, surely, I'd find a legendary or five among those 165 cards? Let's see…
Nope, as it turns out, legendaries are, well, rare! I only got two – C'Thun (everybody gets that Old God by default though), and Deathwing the Dragonlord. The latter ain't a bad legendary at all, I just don't have enough dragons in my collection to consider it viable.
Regardless, I got a whole whack of new Old God cards to enjoy. I've only spent some time playing a standard C'Thun deck (as have basically all the people I've played against), but I'll look at putting together more specialised ones soon.
Thus far, I'm really enjoying the expansion. What about you? Did you get any good cards?
Last Updated: April 28, 2016