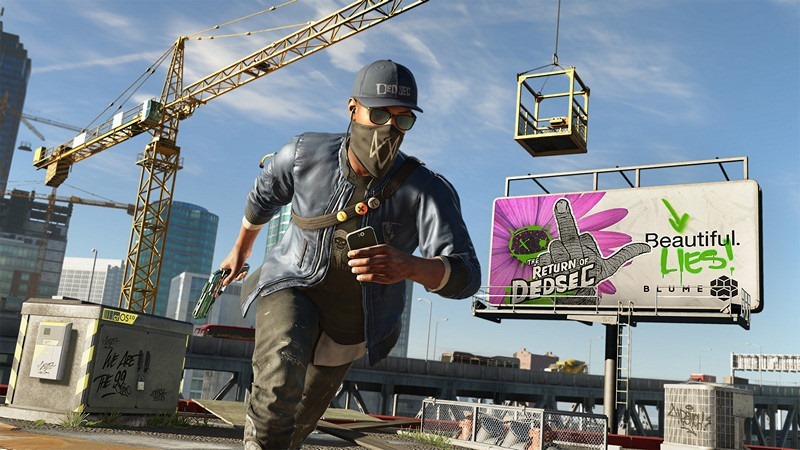 I really enjoyed Watchdogs. No, really. I didn't get quite so caught up in the downgrade saga, and I kept my expectations in check going in. I had a grand time hacking the city of Chicago, even if that hacking was largely perfunctory, single button press stuff. I played it, as much as I could, as a ghost – hacking from the side-lines instead of going for full frontal assaults and I think I had a better experience for it.
Naturally, I'm excited for its impending sequel, which seems to be the Assassin's Creed 2 to the new game. It adds layers of welcome complexity, makes the game more interesting to play, and fleshes out the basic ideas that the first game promised, but never really delivered on. Like Assassin's Creed 2, it also has a more interesting setting, and a much more interesting main character.
[typed string0="We will not be afraid. We will not be silent. This time, we will stand together. " typeSpeed="20″ startDelay="0″ backSpeed="20″ backDelay="1000″ loopCount="100″ loop="1″]
Taking place within San Francisco's counter-culture, the game puts you in the shoes of Marcus Holloway, a disenfranchised young man who has a bone to pick with CtOS, the Big Brother security system that controls just about everything. It's profiled him as a criminal. He wants to take the power away from the corporation, and give it back to the people.
Check it out in the game's launch trailer – even though the game launches next week.
"After being wrongly profiled as a criminal risk by a citywide operating system, Marcus Holloway investigates to find rampant corporate corruption and manipulation of the public. Marcus and his group of hackers, DedSec, wage a war to take down the system and return power to the people."
Last Updated: November 10, 2016