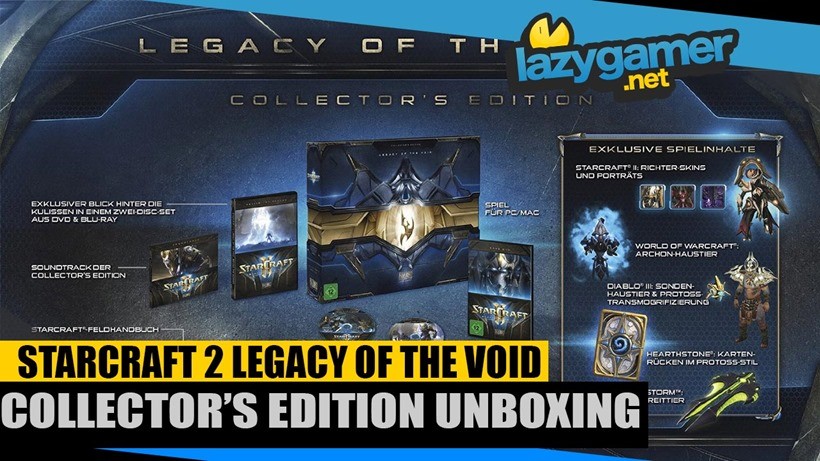 Tuesday was a big day for gaming this year. We had the release of that game that rhymes with "call doubt snore" and the other title, which I was far more interested in, StarCraft II: Legacy of the Void. My life was ready for Aiur for sure, and to prove it, I unboxed a collector's edition of Blizzard's latest RTS.
Watch and be amazed as I make the box magically stand without falling over, talk rubbish, and fade to black because I, unlike Alessandro, do not keep murder weapons within arms reach…
In case you can't watch the video, here's all the content that comes with the Legacy of the Void Collector's Edition:
Physical goodies
StarCraft II: Legacy of the Void game
Exclusive behind the scenes DVD & Blu-ray
Collector's Edition Soundtrack
StarCraft Field Manual
Digital goodies
StarCraft II purifier unit skins and portraits
World of Warcraft pet archon
Diablo III probe pet & Protoss Transmog
Hearthstone Protoss-themed card back
Heroes of the Storm void speeder mount
As far as collector's editions go, I am genuinely disappointed that the Legacy of the Void box didn't come with something a little more special. Don't get me wrong, it's still a neat little collection of goodies, but as the last instalment in the StarCraft II trilogy, I would at least expect something more than some bonus discs and an art book.
I mean, there were a ton of things that could've been thrown in, like probe keyring, or an Artanis figurine. What about a Pylon bedside lamp? I'm not asking for too much, am I?
Regardless, I've got the game all installed and ready to go on my PC. Have you been playing Legacy of the Void? I haven't had the chance to yet myself, but that's all changing tonight!
Last Updated: November 12, 2015