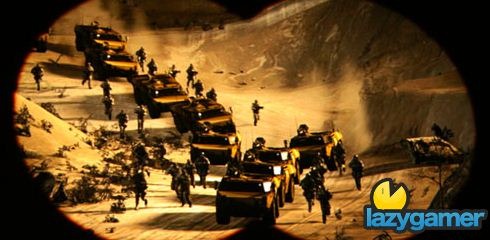 MAG the hugely ambitious 256 online FPS for the PS3 has just gone into open Beta, which means that if you own a PS3 you are invited to join in and see what all the fuss is about.
The beta lasts from right now up until the 10th of January and all you need to do to get involved is boot up your PS3, log into the PlayStation store, go to the MAG section and download the Beta file (298Mb)
Then when that is downloaded you boot it up which will force a patch download of 37Mb and force your PS3 to restart.
Once it has restarted you can boot up MAG again and it will download the actual game which comes in at a seriously eye watering 1.8Gb to 2.3Gb depending on your region.
Why they didn't just stick the game file into the store and make you download it once is anyone's guess but lets ignore that for now and try the game out.
We'll bring you our thoughts on the Beta just as soon as the carrier pigeons return with our data*.
Source: 1UP
*actually that's not true we have those awesome guys over at iPeg who were kind enough to give us enough bandwidth to download all these idiotically large demo's.
Last Updated: January 5, 2010