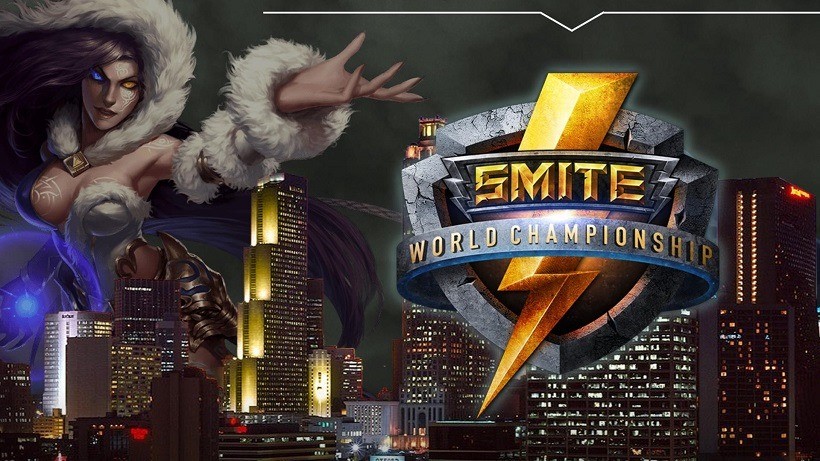 Smite held their second World Championship over the weekend, and while it may not be our most popular eSport, it is one that deserved our attention. North American team EnvyUS took the Xbox One category running undefeated and taking home $75,000, while Epsilon eSports provided a similar showcase going undefeated and taking home $500,000 on PC.
Smite was originally released on PC by Hi-Rez Studios offering something different to the MOBA world with a third person showdown in what can only be described as a mash up of the MOBAs we love. Smite is also one of the first MOBAs to feature on consoles, and as 2015 kicked off with their inaugural World Championships, 2016 followed suit in maintaining the eSport's hold on the console MOBA genre.
Epsilon reign undefeated
The European Smite Pro League Champions ran a rather tight ship going completely undefeated throughout the tournament. However, in the semi-final they met their match when they faced off against the former champion's roster of Cloud9 in a best of five showdown which went the full nine yards with Epsilon coming out on top 3-2. This, unfortunately for second place team Enemy, was the victory needed in order to cement Epsilon's victory as Cloud9 were by far their toughest opponent, according to Craig "iRaffer" Rathbone.
"We were confident versus Cloud9, and Enemy we felt were the weaker team. They knew how to deal with us a lot harder, and we were expecting Enemy to copy their tactics," reported The Daily Dot.
Enemy on the other hand suffered a heavy defeat at the hands of Epsilon losing the Grand Final 3-0 further elaborating the comment made above. Enemy was the underdog team after struggling to qualify for the American Super Regionals, and finally undergoing a roster change ahead of the World Championships. They did however stun crowds by going undefeated throughout the upper bracket and only dropping one map to Paradigm in the Quarter Finals.
Some argued their road was slightly easier than the Europeans, but hardly anyone expected them to make it all the way to the Grand Final. Needless to say this was a major step forward for the North American team as they now stood before an extremely bright future, only needing to defeat American Champions Cloud9 to further cement their position in NA. Captain Alexander "Khaos" Greenstein had the following to say about his teams performance:
"To go from eighth in SPL to second at Worlds. I can't really be too salty about that."
Epsilon walked away with $500,000 and the title of World Champions kicking off an exciting year ahead for Smite.
EnvyUs make the smart choice
EnvyUs did what Enemy could not, kicking off a similar fairy tale story, but ending in victory. EnyUs's story is something special in the eSports world. A month before the World Championships the European team decided to switch platforms from PC to Xbox One in hopes of making it to the main stage. With all odds against them they managed to qualify through the open qualifiers last week set to take on the world's best Xbox One teams who qualified through the likes of ESL and MLG. Of course nobody really batted an eye lid as an open qualifier was just a small feat for an already professional team, but as Buzzfeed would so eloquently bait you, "What Happened Next Would Blow Your Mind…"
The EnvyUs team, prior to their switch to Xbox One, failed to make the PC World Championships, so as any PC gamer would tell you – How hard could console be? According to EnvyUS, not that hard. Accord to Attack of the Fan Boy Ryan "Omega" Johnson also had the following to add:
"I'm just tired of playing Xbox. It was too easy. I'm excited to go back to PC. We didn't drop a game so, let's be real. I mean we played for a month and just stomped everybody."
He unfortunately did not stop there.
2-Time-Multi-Platform(PC/Xbox) Smite World Champion. Let the Salt Rain Upon Me. Time to prep for PC Season 3! ?? I love all my fans, ty! ??

— Omega (@TDTOmega) January 10, 2016

As stated above EnvyUs did not drop a game and walked away with $75,000 after defeating COGnitive Gaming 3-0 in the Grand Final.
The Aftermath
While Epsilon deserved their win (not that Envy did not) fans immediately took to Reddit to discuss comments made by EnvyUs regarding their victory. Some went as far as saying Hi-Rez should not allow PC teams to compete in the Xbox One division as it ruins the sanctity of the game. However, the Gods only favour the strong, and it's clear that EnvyUs were the strongest Xbox Team despite their timely switch from PC. Whether there will be consequences for comments made is still a question, but I'd assume an apology will suffice for now and Hi-Rez may step up their rulings in the future as to secure the integrity of Smite on Xbox One. At least one player took the high road, albeit in a rather condescending way.
For next year any Xbox teams that honestly want help, ask. We had fun and I want to see Xbox grow. So I'm always here.
— Weak3n WORLD CHAMP (@EnVy_Weak3n) January 10, 2016
Like esports?
Check out esports central
Last Updated: January 11, 2016