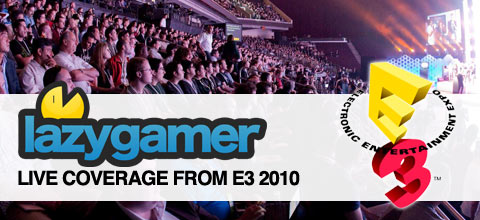 So it's 7 days until E3 officially starts with the Project Natal, powered by Cirque de Soleil, event and we're going to be there live and in the flesh.
We have been scrounging our pennies and working through the night to prepare for this event and it brings me great pleasure to officially say that Lazygamer will be sending 2 people over to E3 2010 to cover it live.
We will be live blogging all the main keynote events where technology is allowed and posting full roundups of the events as soon as possible.
But more importantly we have also been invited to see 24 yet to be released games behind closed doors, these things are so secret that I can't even hint at what games we are seeing but I can say I am stupidly excited about 7 of them and am looking forward to virtually all the others.
I would like to also take a minute to thank Microsoft South Africa for being our lead sponsor throughout the event and for supporting the local community. We really do appreciate the support.
We have also been invited to a bunch of invitation only parties throughout the week and for that I would like to thank all of you for coming back and reading what we write. This is easily the biggest thing the site has ever been able to accomplish and it's all thanks to you.
Let us know what you really want to know from E3 and we will go out of our way to accommodate it, just think of us as your slaves for the week.
Last Updated: June 7, 2010