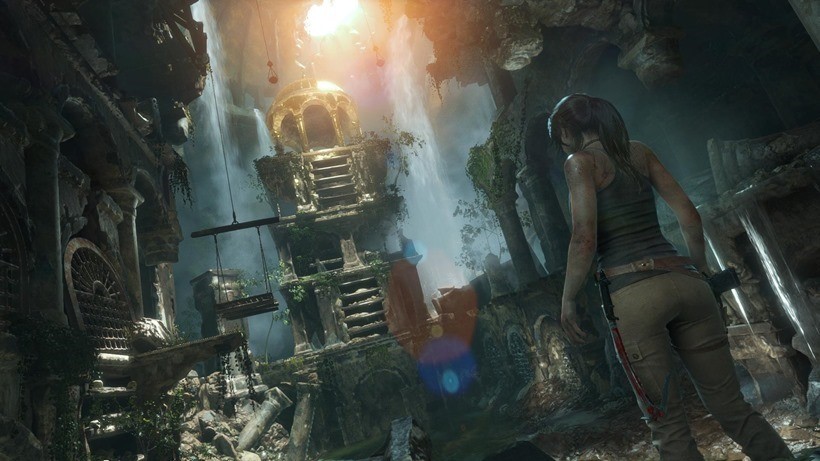 Rise of the Tomb Raider is, technically, Microsoft's last big exclusive for the year. It's a timed one, but also a game that will be exclusive to the platform for the next few months (and a whole year on console too). Following the stellar reboot, Crystal Dynamics has been working hard to ensure that Rise of the Tomb Raider builds onto what can become a gleaming franchise. We can't say yet for sure if it achieves that, but the opening few hours are filled to the brim with promise.
Unfortunately, we can't exactly show too much, but what we have is something of particular interest. Tomb Raider has small hubs spread out throughout its campaign, which broke up the pace nicely and offered a little less scripted exploration. Rise of the Tomb Raider expands on this in a big way, making these hubs larger, filled with side activities and a host of distractions to keep you off the predictable path.
This is just one of those hubs, which features an NPC that hands out side-quests for gear, game to hunt, secret caves to explore and larger, more expansive tombs to discover (the one here is sadly off limits to recording too). They're excellently placed points that break up the so far exhilarating pace of the main campaign, giving you a breather to take stock of supplies, upgrade weapons and generally gawk at the beauty of the game itself.
Seriously – just looks at that orange glow stick and how it bounces off cave walls. So pretty.
Rise of the Tomb Raider is shaping up quite nicely so far, and we'll have our full review ready and published on Monday next week. Just before it releases on Xbox One and Xbox 360 the day after.
Last Updated: November 3, 2015