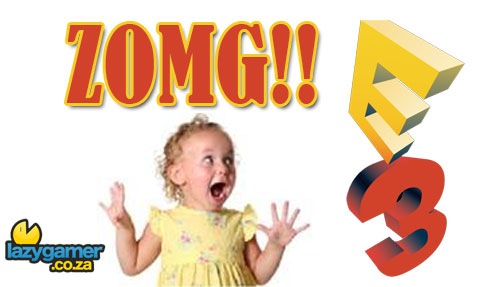 E3 is less than two weeks away. While my colleagues – Gavin and Nick – are preparing to assault Los Angeles and take in the sights and sounds of E3 this year, I'm preparing to rest my head in my hands and cry. That's not to say I'm not still excited by what E3 will bring – I'm just probably a little less enthusiastic than they are.
Still, E3 will no doubt bring us a whole bunch of information on upcoming games, hardware and gaming tech.
The big things expected at this year's convention are 3d Gaming, and motion control – both of which i deem to be gimmicks. While Playstation Move is likely to be the motion control system that's better suited to core games, I'm really interested to see if Microsoft's Natal will live up to any of the promises from last year's expo. For that reason, I'm really hoping to see more of Milo and Kate, as well as how the peripheral has been incorporated in to Fable 3. Molyneux may blow smoke out of his ass most of the time, but sometime he really does get things right.
Continuing with the 360, I'd like to get a good look at Gears of War 3 in motion – and see if Microsoft's flagship exclusives still have the visual fidelity necessary to take on the PS3 increasingly impressive exclusive library.
From Sony I'm really hoping to finally get a look at Rockstar's exclusive Agent, and a better look at the Last Guardian and LittleBigPlanet 2not a fan of racers or FPS so you'll have to excuse my lack of interest in GT5, Killzone 3, Resistance 3 and the new Motorstorm. I'm also hoping against hope that announce a new Sly Cooper game.
With regards to the Wii I expect the new Zelda to be announced, and I expect to be wowed by it. I'd also like to see more media relating to Warren Spector's Epic Mickey.
E3 this year is going to be explosive, but the apparent emphasis on both 3D gaming and motion control have me a little pensive. What are you most excited to see?
Last Updated: June 2, 2010