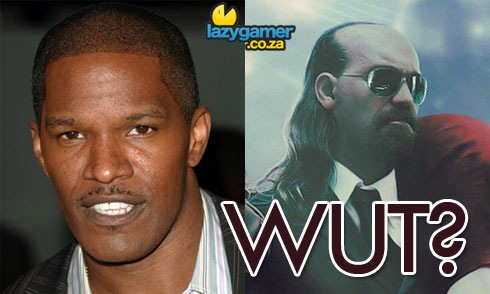 We already know that Bruce Willis has signed to star as the titular Kane in the upcoming big-screen adaptation of Kane & Lynch. While numerous rumours have surfaced as to who'd be playing his somewhat psychotic sidekick, it's been revealed that the role of Lynch will be played by Jamie Foxx. Wait. What?
I'm not generally one to point out the obvious – nor am I one to bring race in to play – but have the film's producers noticed that unlike the game's character, he's well…black?
Don't get me wrong. As a cast member of the Wayans brothers' groundbreaking comedy sketch show "In Living Colour," I hold Jamie Foxx in pretty high regard, and he's proven that he can actually act, with his roles in Jarhead, Collateral and his Oscar-winning turn as Ray Charles in Ray. Not that an ability to act is a prerequisite for starring in a videogame to film adaptation, of course.
Thing is, after playing the admittedly mediocre game I always pictured the role going to somebody like Mickey Rourke, Bily-Bob Thornton or John Malkovich, all of whom exhibit a bit of their own inherent craziness.
That and "Lynch the black man" conjures up images of hate groups from the American South. Wrong, just wrong.
Source : 1up
Last Updated: March 19, 2010