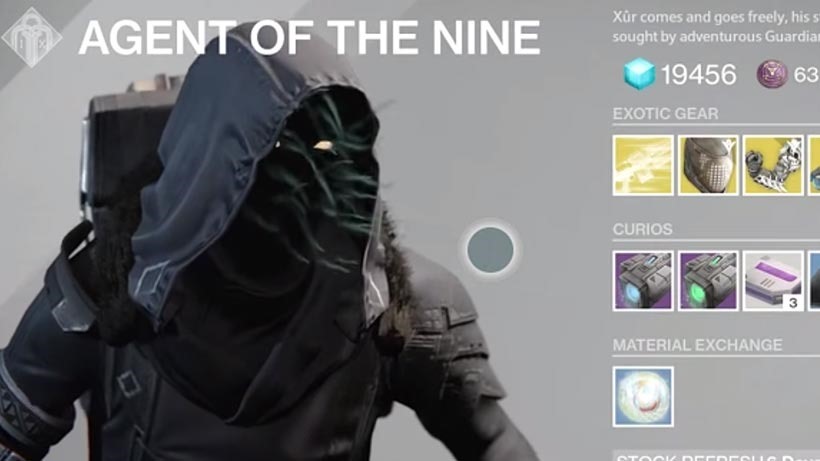 It may be a Friday, but you all know that the day only officially begins when Xur arrives. Yessir, the Agent of The Nine is back, ready to grab a few of your Strange coins and hand over some Exotic engrams in return. So where is he?
This week, Xur can be found in the Tower, milling around the hangar. As you know by now, Xur no longer sells guaranteed Exotic weapons. What you get from now on, is either a random year one armour piece or weapon, to help you finish your collection.
The other armour pieces on sale however, will be year two kit. Useful, when you want to take advantage of Infusion. Here's what he has for sale this weekend:
Ruin Wings -Year Two Gauntlets
Defense: 280
Intellect: 32 / 45
Strength: 28 / 41
Heavy ammo drops more often and contains more ammo in each drop
Increased reload speed with Rocket Launchers
Increased grenade throw distance
Sealed Ahamkara's Grasps -Year Two Gauntlets
Defense: 280
Strength: 57 / 70
Gain additional melee charge and melee damage may reload Primary Weapon
Increased melee attack speed
Increased reload speed with Fusion Rifles
Light Beyond Nemesis – Year Two Helmet
Defense: 280
Intellect: 60 / 75
Supers generate an extra Orb. Revive and be revived faster.
More Super energy from non-Guardian kills
Gain bonus melee energy on Orb pickups
Hawkmoon – Year Two Hand Cannon
Attack: 280
Magazine: 11
Two more random bullets in your magazine deal considerable bonus damage
One random bullet in the magazine causes considerable bonus damage
Xur departs at 9am GMT on Sunday, September 27, so make sure that you've got enough Strange Coins saved up. You can grab plenty of them just by completing daily bounties, Nightfall Strikes and upping your reputation around the Reef and Tower.
Remember, the Three of Coins exploit has pretty much been nerfed already, so you'll be better off saving those coins for Strike playlists.
Last Updated: September 25, 2015