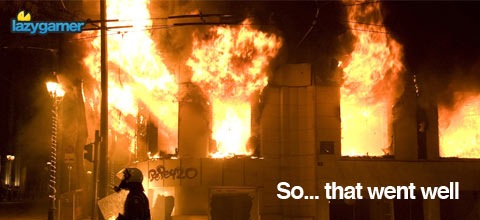 Since its release, the Xbox 360's name has become synonymous with overheating and the good ol' red ring of death. This of course, was a big enough problem to have Microsoft extend the warranty for RROD's to 3 years, at a cost a 12,673,536,078,579,524,000.00 Zimbabwean Dollars (That's a billion US dollars and is in fact, the real amount at the current exchange rate on that side of the border).
The blokes from GoFanboy decided to run test on the new Xbox 360 "S" to see how it fares against the PS3 slim as well as the old fat-ass Xbox 360 and Playstation 3 as well.
To do the tests, GoFanboy aqcuired 4 Xbox 360 S consoles, 4 PS3 Slim consoles, and then one fat PS3 and one fat Xbox 360. They then ran the consoles inside barely ventilated cabinets, in order to simulate the type of heat experienced when consoles are inside demo stands on hot, sweaty showroom floors.
So how do you think the new Xbox 360 S did?
Here's what they had to say about the results:
"After putting the consoles in barely ventilated cabinets, the tests finally "heated up". In every slim model tests, the PS3 models shutdown first. This occurred multiple times as we tested each pairing three times. This doesn't mean the PS3 models are faulty by any means. It simple means they're designed to shutdown at a lower temp or possibly they heat up faster.

Even after multiple tests in identical situations with high temp exposure, not a single console showed any sign of damage after rebooting. The "fat" models however were a much easier test in terms of time and results. The PS3 160gb won this test in under five hours. Sadly the 360 Premium (fat model) was under able to reboot as we got red ring and boxed that one up."
So then, it seems like Microsoft have actually been doing something right lately. It seems as though the old days of overheating Xbox 360s may just be a thing of the past, well, that is if you fork out for one of the new models.
All of the consoles fared well, with the exception of the Xbox 360 fat, but that's no surprise now is it? A special mention has to go out to the old PS3 for still coming out on top.
What this essentially means is that everybody wins. We have finally gotten to a stage where stupid technical faults are becoming a thing of the past, but that's still no excuse for the amount of turmoil caused by Microsoft and its RROD in the past.
I'm just happy that the new Xbox 360's run cooler, meaning that less folks like you and me have to sit through a late night Friday RROD surprise ever again.
Source: GoFanboy
Last Updated: July 13, 2010