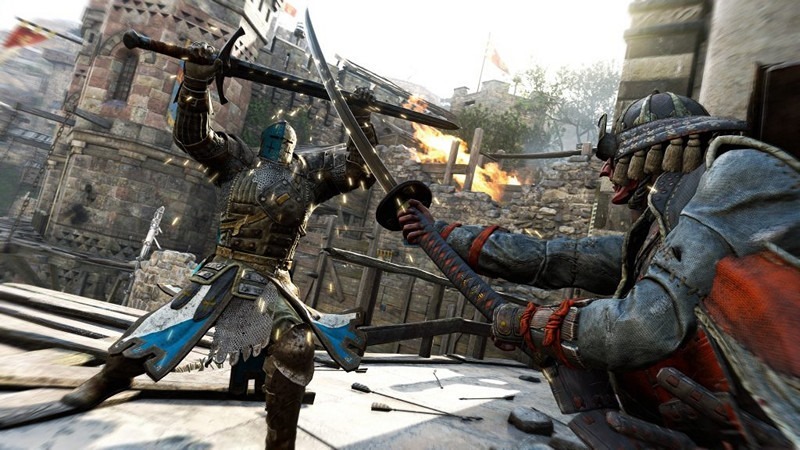 This weekend saw the very last beta for Ubisoft's upcoming weapons-based melee brawler, For Honor. The game certainly seems like it'll be a heck of a lot of fun, once you navigate around the matchmaking. I do worry, however, that this weekend's beta has had the opposite of its intended effect. Instead of getting more people excited to smash in skulls tomorrow, it's perhaps left a few wondering if the full game is worth buying.
It is of course, worth noting that the beta showed off a very limited cross section of the full game. The beta was home to 1v1, 2v2, and the slightly MOBA-inspired, King of the Hill-esque Domination mode. What the beta didn't show you is the game's single player mode, which certainly sounds interesting.
"Playable as single-player and two-player co-op, the For Honor story mode is an immersive tale of larger-than-life warriors plunged into one of the bloodiest wars between Knights, Vikings, and Samurai in recent history.
Hundreds of years after a cataclysm reshaped the world, Knights, Vikings, and Samurai have adapted and thrive once more. Each now has the power to defy the other factions, tipping a fragile equilibrium into all-out war.
Embodying the greatest warriors of each faction, players experience some of the defining moments that led to the war. Dealing with manipulation, betrayal, and catastrophic reversal, they will need wits and skills to ensure victory.
Storming castles and fortresses, turning the tide of key battles, and defeating deadly bosses in intense duels, players will incarnate as battle-hardened heroes who will shape the course of a violent history."
I…I kinda want to play that. That sounds a lot more appealing to me than the online multiplayer stuff. Want to play that too? You could – because we're giving away a copy of the game.
We've got a pretty sweet For Honor hamper to give away to one lucky winner.
T-shirt
Keyring
Coasters
Copy of the game on platform of choice
Unfortunately in this case, platform of choice is restricted to PS4 or Xbox 1. We tried to get PC, we really did. Anyway, all you have to do is fill in this form to be eligible. You also need to reside within the borders of South Africa. You're allowed one entry per unique, valid email address. We'll announce the winner on 20 February 2017
[contact-form-7 404 "Not Found"]
Last Updated: February 13, 2017