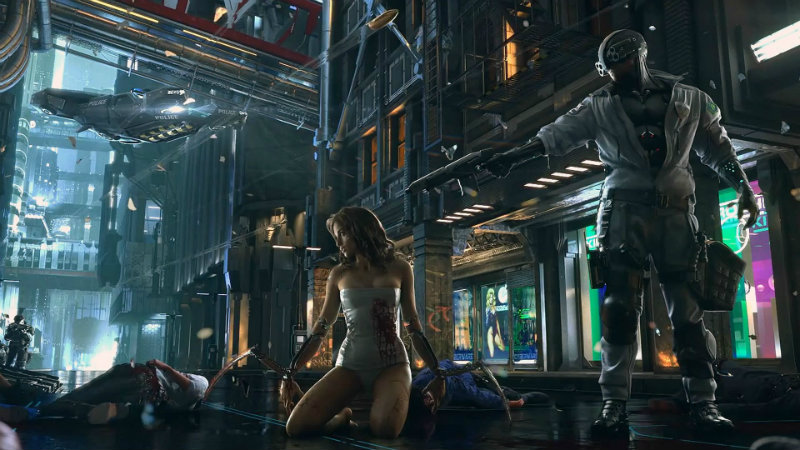 The Witcher 3 has been incredibly successful – not just financially, but in terms of setting a new standard for video games. With the franchise wrapped up, people are now even more excited for Cyberpunk 2077, the next major project from CD Projekt Red. But it will be a long time before we see it, mainly because the bar has been set way higher.
CD Project Red resident Adam Kici?ski and Studio Head Adam Badowski talked about Cyberpunk 2077 during their financial results conference. Badowski explained that the studio wants to make better games; since The Witcher 3 set the bar of success so high, Cyberpunk 2077 has to be "even better, even bigger, even more revolutionary than originally planned. As a result, we're still "a long ways away from the premiere" as the studio still has "a lot of work to do".
Cyberpunk 2077 is a "huge game," with a magnitude "much greater" than The Witcher, and the studio has "amazingly large ambitions" for it.
The studio plans to at least double in size in terms of developers, going from 400 to 800 people working on their games. These developers will be split into four teams, but not all will be working on Cyberpunk 2077 – some will be working on penetrating new gaming segments. Unfortunately, that doesn't necessarily mean that we'll be seeing the game any sooner.
Kici?ski also talked about the studio's long development cycles, mentioning that between 2017 and 2021 they have two major games (one of which is Cyberpunk 2017 (sic), and the other is an unannounced AAA RPG) in the plans, plus other projects about which they can't talk at all for the moment.
I am excited for Cyberpunk 2077 and wish we could hear more about it, but I'm also willing to give CD Projekt Red as much time as they need. They have proven that they don't disappoint with their games, and I trust that they will do the same with another franchise. Plus, they already said that they don't want to attend so many E3s or other expos with the same game, so they will probably wait until Cyberpunk 2077 is quite close to completion before letting us see more or go hands on for previews. I suppose we'll just have to find some way to be patient until they are ready to blow us away. No pressure guys, no pressure.
Last Updated: March 10, 2016