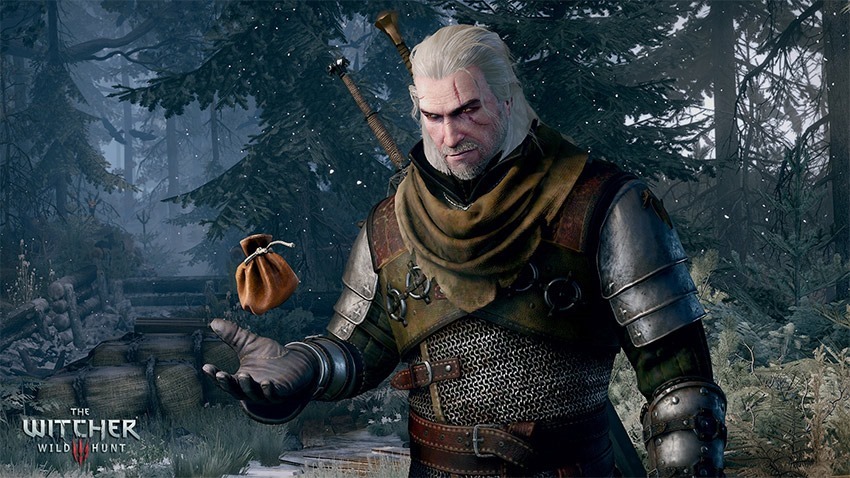 Andrzej Sapkowski, the author of the beloved Witcher books that become the inspiration for the games and the impending Netflix series famously opted to take a quick cash payment instead of royalties when he gave CD Projekt RED licence to make those games.
He's also regularly shown disdain for the games, calling them a "free adaptation"
"The game – with all due respect to it, but let's finally say it openly – is not an 'alternative version', nor a sequel. The game is a free adaptation containing elements of my work; an adaptation created by different authors."

"Adaptations – although they can in a way relate to the story told in the books – can never aspire to the role of a follow-up. They can never add prologues nor prequels, let alone epilogues and sequels.

"Maybe it's time to set the matters straight," he went on. "'The Witcher' is a well made video game, its success is well deserved and the creators deserve all the splendour and honour due. But in no way can it be considered to be an 'alternative version', nor a 'sequel' to the witcher Geralt stories. Because this can only be told by Geralt's creator. A certain Andrzej Sapkowski."
He did come to regret his mistake there, admitting that selling the video game rights off was stupid.
"I was stupid enough to sell them rights to the whole bunch. They offered me a percentage of their profits. I said, 'No, there will be no profit at all – give me all my money right now! The whole amount.' It was stupid. I was stupid enough to leave everything in their hands because I didn't believe in their success. But who could foresee their success? I couldn't."
Now, he wants his due. According to CD Projekt RED, Andrzej Sapkowski has lawyered up and wants a settlement of at least 60,000,000.00 PLN – which is just over $16 Million US. Splowski asserts that the payment deal was only for the first game, and that he's entitled to a cut of the sequels' profit.
CDPR disagrees, of course.
"The notice indicates that Mr. Andrzej Sapkowski expects payment of additional royalties beyond what had been contractually agreed upon between himself and the Company."

"In the Company's opinion the demands expressed in the notice are groundless with regard to their merit as well as the stipulated amount. The Company had legitimately and legally acquired copyright to Mr. Andrzej Sapkowski's work, i.a. insofar as is required for its use in games developed by the Company. All liabilities payable by the Company in association therewith have been properly discharged."
CDPR also said that it would like to come to a mutually beneficial agreement and settle things amicably, but that Sapkowski's demands are egregious.
"It is the Company's will to maintain good relations with authors of works which have inspired CD PROJEKT RED's own creations. Consequently, the Board will go to great lengths to ensure amicable resolution of this dispute; however, any such resolution must be respectful of previously expressed intents of both parties, as well as existing contracts."
I suspect that Sapkowski's own words quoted above – where he says he sold rights to the whole bunch – may kill his chances of the grand payment he's after, but that'll be up to courts to decide unless some sort of settlement is reached.
Last Updated: October 2, 2018