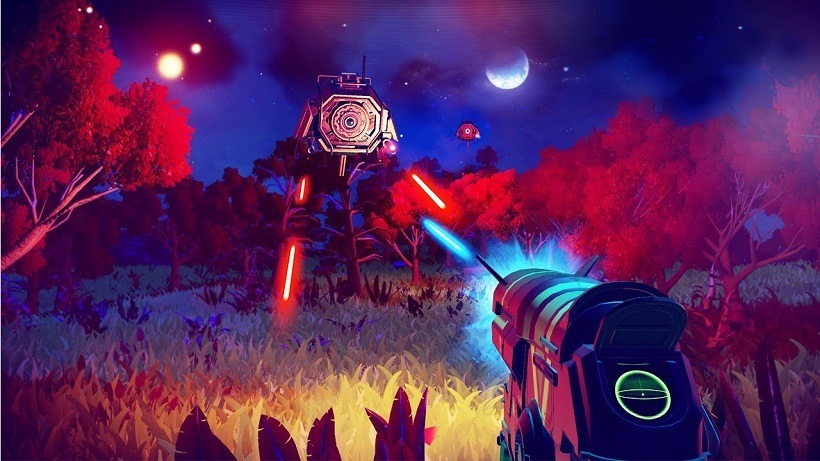 It might have slipped under the radar for you, but No Man's Sky isn't an experience you're going to be playing alone. Well sure – the likeliness of you bumping into another player while exploring 18 quintillion planets is incredibly small, but somewhere (way other there in the light of dead stars) is another player waiting to be found. And you won't need a subscription to maybe bump into them.
At least not on PS4, where multiplayer games traditionally require a PlayStation Plus subscription to access any online content. Despite being a persistent online title (that will store other player's planet, wildlife and plant life data online for you to discover), No Man's Sky will skip out on this rule. It won't require PS Plus at all – not at launch and not a day afterwards.
In a statement to Game Informer, Sony confirmed this – while reiterating that the game is best played online at all times.
"PS Plus won't be a requirement to play online, however you will need to connected to the internet for your discoveries to register with the universal atlas,"
Sure you can play No Man's Sky entirely offline (and probably not know the difference), but if you want to happily stumble upon a planet some other player has already discovered, you should keep that internet connection strong. Better yet, if you want another explorer to possibly happen upon your own discoveries, you'll need that to be the case too. It's a big universe, but who knows how many people will explore your very first discovery.
No Man's Sky is an ambitious, slightly still confusing but equally bewildering title that I can't wait to see launch, if only to see how it's received by players worldwide. Hello Games has been teasing us for years, and we're just a few short days away from finally exploring a universe so large only maths could possibly create it. It's out on PS4 and PC on August 9th and 12th respectively.
Last Updated: July 26, 2016