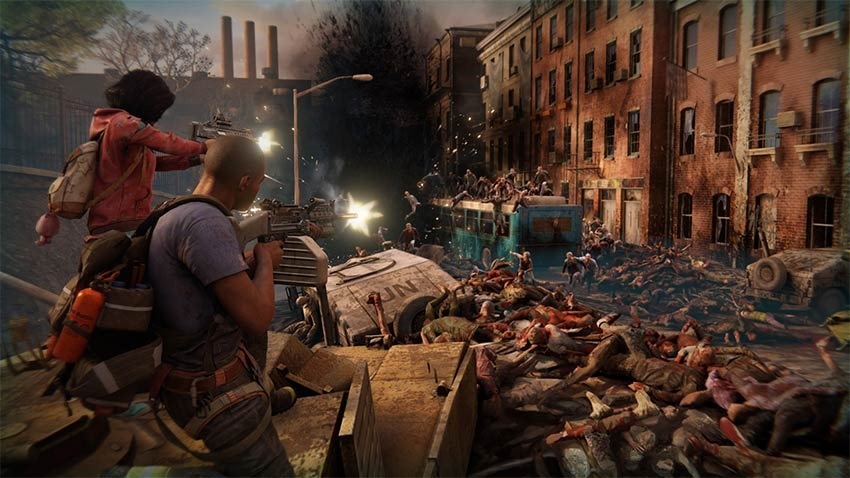 Last week, World War Z developer Saber Interactive and publisher Focus home Interactive thumped their chests, celebrating the co-op zombie shooter's sales milestones. The game sold over a million copies in its first week, which is impressive given that it's a mid-tier game from a smaller publisher.
They're still at it, but this time they're being especially chuffed by the game's Epic exclusive Pc version.
"Saber is extremely thrilled by the performance of the game on all platforms. On the PC specifically, we are performing way above expectations thanks to the support we have received from the Epic Games Store," Saber CEO Matthew Karch said in a press release (Via Eurogamer).
Karch didn't quite say what the support amounted to, but, did say that the game has been doing especially well outside of the US.
"Overall the U.S. and EU have been equally strong in sales. We have had 70,000 people playing at once across all platforms, with very similar distribution among PC (Epic Games Store), PS4 and Xbox. What surprises us is the fact that sales outside of the U.S. on the Epic Store have been so strong, with the U.S. being only one quarter of sales."
We quite liked the game, with Brad surprised by how much he enjoyed it.
"Honestly, I wasn't expecting to enjoy World War Z. Going in, I thought it was just gonna be a run of the mill zombie shooter. After a few hours in I was rapidly trying to convince my friends to buy their own copy of the game just so I could share in how much fun I was having with someone else. Despite some questionable decisions, World War Z is a smart, exhilarating step forward for cooperative shooters and I'm hoping desperately that the game grows larger and larger in the next few months."
And it will grow. There's some free DLC on the way that'll add new content to the Tokyo episode, along with some new zombie types.
"Moving forward, we'll continue to work on growing the game and its community with new improvements, stability updates and bonus gameplay content, beginning very soon with a special new mission for the Tokyo episode."
Last Updated: April 29, 2019